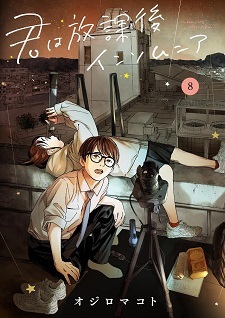 Publishing company Shogakukan announced both a television anime adaptation and a live-action movie for
Makoto Ojiro
's
Kimi wa Houkago Insomnia
(
Insomniacs After School
) manga on Wednesday.
Ojiro began drawing the slice of life school manga in
Big Comic Spirits
in May 2019. Shogakukan published the eighth volume on Wednesday (pictured).
Synopsis
It all started with the death of one of the Astronomy Club's members. From this, the rumored ghost of the club came to life.
Grumpy insomniac Ganta Nakami stumbles across the moderately rebellious yet easygoing Isaki Magari in the Astronomy Club's abandoned observatory. Magari is jolted awake and tries to escape from the scene, only to have a broken door prevent that, forcing the two inside. The two forge an unlikely friendship, leading them to use the observatory as a safe space for them to interact.
Kimi wa Houkago Insomnia follows the insomniacs Nakami and Magari's time in the starlit observatory as they help each other cope with insomnia and the lasting effects it has on student life. [Written by MAL Rewrite]
Shogakukan posted a special animated promotional video commemorating the release of the seventh volume last October.
Special PV
Manga official page:
https://bigcomicbros.net/work/6437/
Source:
Comic Natalie
Kimi wa Houkago Insomnia
on MAL

RSS Feed