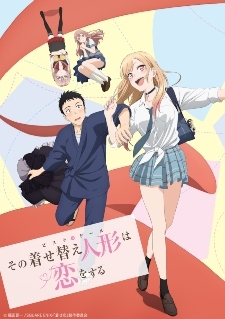 The official website of the
television anime adaptation
of
Shinichi Fukuda
's
Sono Bisque Doll wa Koi wo Suru
(
My Dress-up Darling
) manga revealed on Saturday additional cast, staff members, second key visual (pictured), theme song artists, and second promotional video. The anime is scheduled to premiere on January 9 at 12:00 a.m. on Tokyo MX, Tochigi TV, GunmaTV, and BS11 followed by AT-X, Yomiuri TV, and Me-Tele.
Staff
Assistant Director:
Yoshihiro Hiramine
(
Tsuki ga Kirei
episode director)
Chief Animation Director:
Shinpei Kobayashi
(
Takunomi
), Tomomi Kawatsuma (
Sarazanmai
),
Jun Yamazaki
(
Koisuru Asteroid
)
Main Animator: Naoya Takahashi (
Wonder Egg Priority
animation director)
Costume Design: Erika Nishihara (
Koutetsujou no Kabaneri: Unato Kessen
prop design)
Color Design:
Mai Yamaguchi
(
Powerful Pro Yakyuu: Powerful Koukou-hen
)
Art Setting:
Hiroyuki Nemoto
(
Tenchi Souzou Design-bu
)
Special Effects: Chiemi Irisa (
86
)
Director of Photography: Tsubasa Kanamori (
Horimiya
photography)
Technical Director:
Yuuya Sakuma
(
Darling in the FranXX
director of photography)
CG Director: Katsuaki Miyaji (
Shadows House
)
Editing:
Daisuke Hiraki
(
Bakuten!!
)
Sound Effects:
Hiroki Nozaki
(
Release the Spyce
), Ayori Kobayashi (
Bokutachi no Remake
)
Atsushi Ono
(
Re:Creators
) is joining the cast as Kaoru Gojou.
Pop rock band
Spira Spica
(
Tsuujou Kougeki ga Zentai Kougeki de Ni-kai Kougeki no Okaasan wa Suki Desu ka?
) is performing the opening theme "Sansan Days." Akari Akase will perform the ending theme "Koi no Yukue." Both theme songs are previewed in the promotional video below.
Keisuke Shinohara
(
Black Fox
) is directing the anime at
CloverWorks
.
Yoriko Tomita
(
Osananajimi ga Zettai ni Makenai Love Comedy
) is handling the series composition and penning the script.
Kazumasa Ishida
(
Saenai Heroine no Sodatekata Fine
character design assistance) is the character designer and chief animation director.
Fukuda began serializing the romantic slice of life manga in
Young Gangan
magazine in January 2018. Square Enix shipped the eighth volume on October 25. The publisher also began releasing the manga in English under its Manga & Books imprint last April and shipped the fifth volume on March 22.
PV 2
Source:
animate Times

RSS Feed