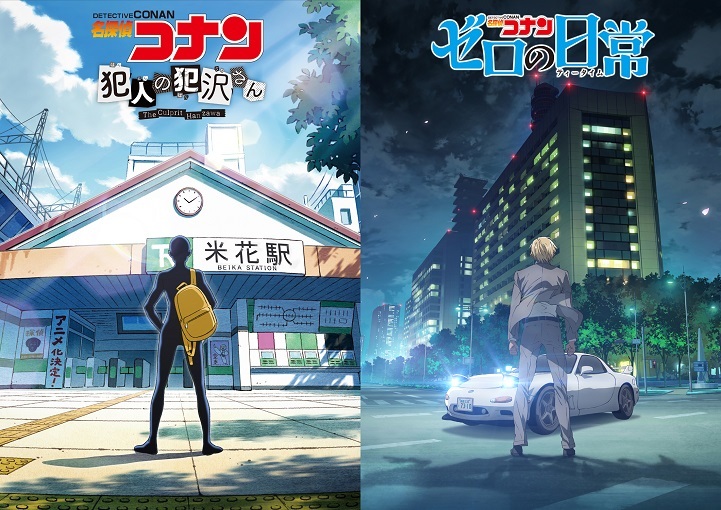 Shogakukan announced an anime adaptation for two spin-offs to
Gosho Aoyama
's
Detective Conan
(
Case Closed
) manga—
Mayuko Kanba
's
Hannin no Hanzawa-san
(
The Culprit Hanzawa
) and
Takahiro Arai
's
Zero no Tea Time
(
Zero's Tea Time
)—on Monday. The publishing company opened an official website for each anime, revealing teaser visuals (pictured above) and an announcement promo.
Hannin no Hanzawa-san
stars the black-silhouetted "criminal" that appears in
Detective Conan
representing the mystery culprits.
Zero no Tea Time
focuses on the life of the triple agent, Rei Furuya, also known as Tooru Amuro and Bourbon. Each chapter features one of his three faces, the private detective and Café Poirot waiter Amuro, the Black Organization operative Bourbon, and the NPA officer Furuya.
Kanba began
Hannin no Hanzawa-san
in
Shounen Sunday Super
in May 2017. Arai debuted the
Zero no Tea Time
spin-off in
Shounen Sunday
in May 2018. Shogakukan will publish the sixth and fifth volume of each on October 18, respectively.
Announcement
Hanzawa-san official site:
https://hanzawasan-file.com/
Hanzawa-san official Twitter: @
hanzawasan_file
Zero no Tea Time official site:
https://zerotea-file.com/
Zero no Tea Time official Twitter: @
zerotea_file
Source:
animate Times
Detective Conan: Hannin no Hanzawa-san
,
Detective Conan: Zero no Tea Time
on MAL

RSS Feed