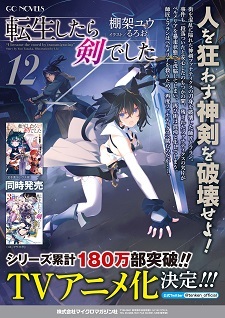 The wraparound band on the 12th volume of
Yuu Tanaka
's
Tensei shitara Ken deshita
(
Reincarnated as a Sword
) light novel announced a television anime on Friday.
Synopsis
The hero of
Tensei shitara Ken deshita
differs from your standard otherworldly protagonist in that he is reincarnated as a sword! Beginning his quest by spawning in the middle of a beast-ridden forest, he encounters an injured girl frantically fleeing for her life. Saving her from her assailants, the pair acquaint themselves, and the girl introduces herself as Fran. She bears a heavy past, having endured the enslavement and maltreatment of her tribe, the Black Cats.
As the hero is unable to remember the name from his past life, the young and tenacious Fran bestows him the name "Shishou" and becomes his wielder. Thereafter, Shishou and Fran become a formidable team, embarking on quests to liberate the oppressed and exact justice! [Written by MAL Rewrite]
Tanaka
began penning
the action fantasy novel, abbreviated as
TenKen
, on the Shousetsuka ni Narou website in October 2015. Micro Magazine began printing the series under its GC Novels imprint in July 2016, featuring illustrations by
LLO
(
Machine-Doll wa Kizutsukanai
).
TenKen
has a cumulative 1.8 million copies of its volumes in print.
Tomoo Maruyama
bagan drawing a
manga adaptation
on the
Denshi Birz
(later
Comic Boost
) website in December 2016. Gentosha published the tenth volume on Friday.
Manga creator duo
Hinako Inoue
launched the
Tensei shitara Ken deshita: Another Wish
(
Reincarnated as a Sword: Another Wish
) spin-off on the
Comic Ride
web magazine last June. Micro Magazine published the third volume on Friday, which also contained the anime announcement on its wraparound band.
Seven Seas Entertainment respectively licensed both the light novel and manga adaptation in English in January and May 2019, and published the fifth novel volume and seventh manga volume on May 25 and September 14. The publisher also licensed the
Another Wish
spin-off manga in May and plans to release the first volume on January 18, 2022.
Novel special site:
https://gcnovels.jp/sword/
Official Twitter: @
tenken_official
Source:
PR Times
Tensei shitara Ken Deshita
on MAL

RSS Feed