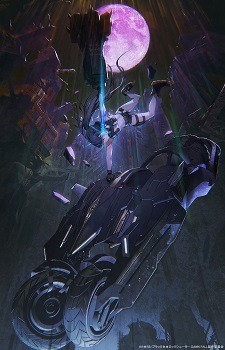 Good Smile Company
opened an official website for a new
Black★Rock Shooter
television anime titled
Black★★Rock Shooter: Dawn Fall
on Thursday, revealing a teaser visual (pictured).
Based on illustrator
huke
's original character design
posted
on Pixiv in December 2007, J-pop band
supercell
's leader
ryo
composed the
Black★Rock Shooter
song using vocals by Vocaloid synthesizer
Miku Hatsune
. The official music video debuted on Niconico in June 2008, which has garnered over 7.6 million views.
The pilot edition of an
original video anime
(OVA) based on the music video produced by animation studio
Ordet
was distributed by Good Smile Company in September 2009.
Hobby Japan
released the full 50-minute version with its August magazine issue in July 2010, subtitled in seven languages. The OVA was also bundled with Gakken's Megami and Animedia magazines, and Black★Rock Shooter Figma and Nendoroid figurines.
Ordet and CG animation studio
Sanzigen
produced an
eight-episode television anime
that aired on Fuji TV's noitaminA programming block in Winter 2012. Discotek Media licensed the anime last December and released it on home video with an English dub on July 27.
Synopsis
On the first day of junior high school, Mato Kuroi happens to run into Yomi Takanashi, a shy, withdrawn girl whom she immediately takes an interest in. Mato tries her best to make conversation with Yomi, wanting to befriend her. At first, she is avoided, but the ice breaks when Yomi happens to notice a decorative blue bird attached to Mato's phone, which is from the book "Li'l Birds At Play." Discovering they have a common interest, the two form a strong friendship.
In an alternate universe, the young girls exist as parallel beings, Mato as Black★Rock Shooter, and Yomi as Dead Master. Somehow, what happens in one world seems to have an effect on the other, and unaware of this fact, the girls unknowingly become entangled by the threads of fate. [Written by MAL Rewrite]
Official site:
https://blackrockshooter-dawnfall.com/
Official Twitter: @
project_brsDF
Official Facebook: @
blackrockshooterDF
Official series portal:
http://blackrockshooter.jp/
Source:
PR Times
Black★★Rock Shooter: Dawn Fall
on MAL

RSS Feed