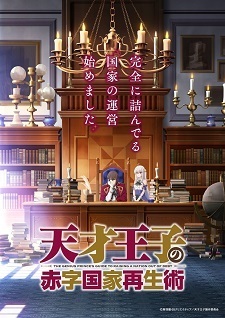 The
Tensai Ouji no Akaji Kokka Saisei Jutsu
(
The Genius Prince's Guide to Raising a Nation Out of Debt
) stage at the
NBCUniversal Entertainment Japan
revealed the main staff members and a teaser promotional video on Saturday.
Staff
Director: Makoto Tamagawa (
Saint Seiya: Saintia Shou
)
Assistant Director: Akira Kai (
Lapis Re:Lights
episode director)
Series Composition:
Deko Akao
(
Tatoeba Last Dungeon Mae no Mura no Shounen ga Joban no Machi de Kurasu Youna Monogatari
)
Character Design: Ryuunosuke Ouji
3D Director: Yoshihiro Tsukashita (
Tanaka-kun wa Itsumo Kedaruge
3D layout/animation)
Art Director:
Hirotsugu Kakoi
(
Magatsu Wahrheit: Zuerst
) (
Kagoshima Ramecahirim
)
Color Design:
Fusako Nakao
(
Dr. Stone
) (
Wish
)
Editing:
Mai Hasegawa
(
Arslan Senki
(TV)) (
editz
)
Director of Photography: Natsumi Uchida (
Saezuru Tori wa Habatakanai: The Clouds Gather
photography) (
animocaramel
)
Sound Director:
Ryousuke Naya
(
Maou Gakuin no Futekigousha: Shijou Saikyou no Maou no Shiso, Tensei shite Shison-tachi no Gakkou e
)
Sound Production:
Studio Mausu
Music:
Toshihiko Sahashi
(
Full Metal Panic!
)
Animation Producer: Yuuma Oogami (
Suisei no Gargantia
)
Studio:
Yokohama Animation Lab
Cast
Wein Salema Arbalest:
Souma Saitou
(
Yuukoku no Moriarty
)
Ninym Ralei:
Rie Takahashi
(
Re:Zero kara Hajimeru Isekai Seikatsu
)
Falanya Elk Arbalest:
Sayaka Senbongi
(
Koutetsujou no Kabaneri
)
Lowellmina Earthworld:
Nao Touyama
(
Yuru Camp△
)
Souma Saitou's role was revealed when the anime was
announced
in January. Rie Takahashi, Sayaka Senbongi, and Nao Touyama were cast earlier this month.
The television anime adapts
Tooru Toba
's
comedy fantasy light novel
, which he began publishing under the GA Bunko label in May 2018, featuring illustrations by
Fal Maro
.SB Creative published the ninth volume on March 12. Yen Press licensed the light novel in English and released the fifth volume on December 15.
Teaser PV
Source:
animate Times

RSS Feed