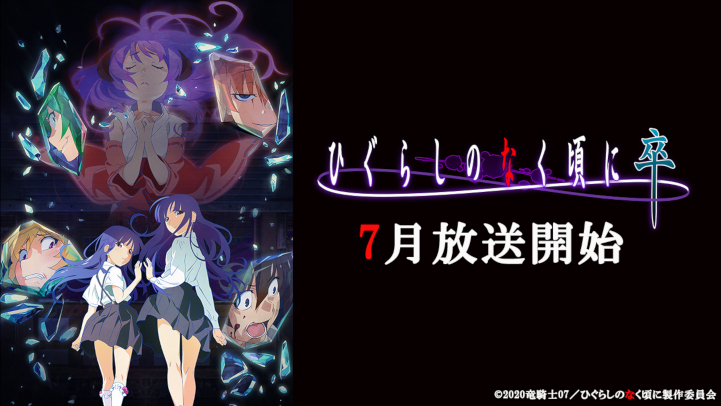 Following the conclusion of the 24th and final episode of
Higurashi no Naku Koro ni Gou
on Friday, a sequel season, subtitled
Sotsu
, was announced. The official website was updated to reflect the new season along with a teaser promo.
Higurashi no Naku Koro ni Sotsu
will premiere this July. North American anime distributor Funimation will also stream the anime.
No contextual information has been released apart from the title. When the subtitle is placed in front of and combined with the previous season's subtitle, the word "Sotsugyou" (Graduation) is formed.
Higurashi no Naku Koro ni
will have a stage at AnimeJapan 2021 during which more information is expected to be revealed.
Studio Deen
produced the first wave of
Higurashi no Naku Koro ni
anime adaptations based on the group 07th Expansion's visual novels. The
first season
aired for 26 episodes beginning in Spring 2006. A 24-episode sequel titled
Higurashi no Naku Koro ni Kai
premiered the following summer, and the five-episode
Higurashi no Naku Koro ni Rei
original video anime (OVA) series debuted in 2009. The
Higurashi no Naku Koro ni Kaku: Outbreak
OVA was released in 2013, but exists outside of the main story.
Passione
took over production for
Higurashi no Naku Koro ni Gou
. It was scheduled to premiere Summer 2020, but was
delayed
due to the coronavirus pandemic and began airing on October 1. It featured a new story based on the original source material.
07th Expansion released the first chapter of the psychological horror visual novel,
Onikakushi-hen
(
Demoned Away Chapter
), in August 2002. The eighth and final chapter in the original series,
Matsuribayashi-hen
(
Festival Accompanying Chapter
), was published in August 2006. Three extra chapters were released in a fandisc in December that year. The latest installment in the franchise,
Higurashi no Naku Koro ni Hou
(
When They Cry: Gift
), was released in August 2014. It collects all the visual novels from the series and includes additional content.
MangaGamer released the original visual novel in English from 2009 to 2010, and is currently releasing
Higurashi no Naku Koro ni Hou
in 14 chapters. The eighth chapter launched on May 14, 2020.
Teaser
Source:
Dengeki Online
Higurashi no Naku Koro ni Sotsu
on MAL

RSS Feed