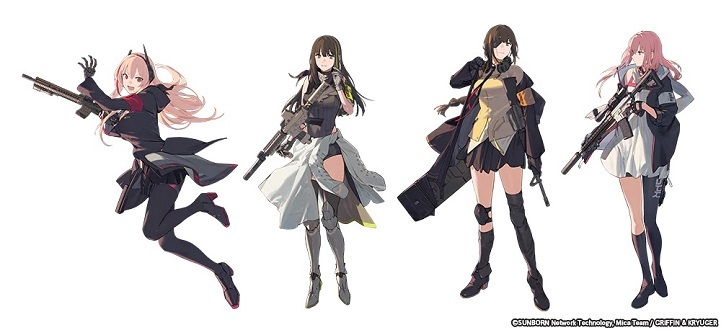 A livestream program for Sunborn Network's
Girls' Frontline
smartphone game announced a television anime on Friday.
Warner Bros. Japan
opened an official website, revealing a commemorative illustration (pictured),
Asahi Production
as the animation studio, and its 2021 debut.
China-based doujin circle MICA Team, later incorporated as Sunborn Network Technology Company, began developing the smartphone game in early 2015 and released it in Mainland China in May 2016, in South Korea the following June, and in English in May 2018. The game was released in Japan under the title
Dolls Frontline
in August 2018 due to another registrant already acquiring the original trademark.
Girls' Frontline
serves as a prequel to MICA Team's 2013 role-playing game
Codename: Bakery Girl
, an enhanced version of the doujin circle's 2009 kinetic visual novel
Girl of the Bakehouse
.
BigFireBird Animation
(Dahuo Niao Donghua) produced a
24-episode net anime series
that ran between July and December in 2019. A
second season
streamed from October to December last year.
Synopsis
The game is set in a war-torn future where tactical dolls, more commonly known as T-Dolls, are almost exclusively used for combat in place of humans, some having been repurposed from their previous life as civilian androids. The majority of the world is uninhabitable due to contamination from the Collapse Fluid, and much of humankind is dead.
In 2062, the artificial intelligence of Sangvis Ferri spontaneously rebels, with their T-Dolls and robots killing their human masters and taking over nearby areas. In response, the private military company Grifon & Kryuger is hired to contain and eliminate Sangvis Ferri forces. (Source: Wikipedia, edited)
Official site:
https://gf-anime.com/
Game official site (Chinese):
https://gf-cn.sunborngame.com/
Game official site (Japanese):
http://gf-jp.sunborngame.com/
Game official site (Korean):
https://www.girlsfrontline.co.kr/
Game official site (English):
http://gf.sunborngame.com/
Game official Twitter (Japanese): @
GirlsFrontline
Game official Twitter (Korean): @
girlsfrontlinek
Game official Twitter (English): @
GirlsFrontlineE
Source:
Moca News
Girls' Frontline
on MAL

RSS Feed