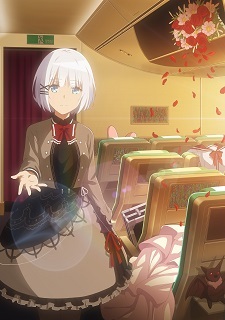 Kadokawa opened an official website for a television anime adaptation of
Nigojuu
's
Tantei wa Mou, Shindeiru.
(
The Detective is Already Dead
,
La Detective Está Muerta.
) light novel on Wednesday, revealing the lead staff, cast, and the first key visual (pictured). The anime series will adapt the
Tsuioku-hen
(
Reminiscence Arc
), which spans from volumes 1–3. The website will reveal a second key visual on February 20.
Synopsis
Kimizuka Kimihiko is a crisis-magnet. From getting caught up in a crime scene to accidentally witnessing a drug deal, trouble seems to find him around every corner. So it is no surprise when his rather mundane flight suddenly enters a state of emergency with a dire need of a detective onboard. Unfortunately, his attempt at avoiding trouble is foiled by a beautiful girl with silver hair who goes by the codename Siesta. Declaring herself a detective, she unceremoniously drags Kimizuka into the case as her assistant.
That incident spelled the beginning of an adventure around the globe that went beyond his wildest imagination. Putting their lives on the line, the two took down criminal organizations, prevented disasters, and saved thousands. But the curtain closed to their epic journey with Siesta's untimely death three years later.
Resolving to live an ordinary high school life this time, Kimizuka spends a year maintaining a low profile. However, as fate would have it, a girl with an uncanny resemblance to Siesta comes crashing into his life, threatening to throw his peaceful days into disarray. [Written by MAL Rewrite]
Staff
Director:
Manabu Kurihara
(
Uzaki-chan wa Asobitai!
character design,
Tokyo Ghoul
animation director)
Series Composition:
Deko Akao
(Hitomi Mieno) (
Noragami
,
Arakawa Under the Bridge
)
Character Design:
Yousuke Itou
(
Kawaikereba Hentai demo Suki ni Natte Kuremasu ka?
,
Kyoto Teramachi Sanjou no Holmes
)
Studio:
ENGI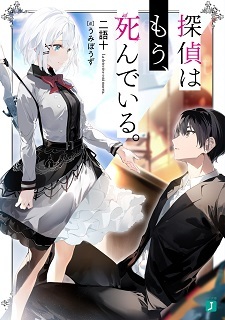 Cast
Kimizuka Kimihiko:
Shin Nagai
(
Nanbaka 2
)
Siesta:
Saki Miyashita
(
Harukana Receive
)
Nagisa Natsunagi:
Ayana Taketatsu
(
5-toubun no Hanayome
)
Yui Saikawa:
Kanon Takao
(
Hyakuren no Haou to Seiyaku no Valkyria
)
Charlotte Arisaka Anderson:
Saho Shirasu
(
Beelzebub-jou no Okinimesu mama.
)
Koumori:
Yoshitsugu Matsuoka
(
Mob Psycho 100
)
Chameleon:
Takehito Koyasu
(
Re:Zero kara Hajimeru Isekai Seikatsu
)
Nigojuu
began penning
the mystery romantic comedy novel, also known by its short name
Tanmoshi
, on the Kakoyomu platform in October 2019. Kadokawa began publishing the title through its MF Bunko J imprint with illustrations by
Umibouzu
in November that year and shipped the fourth volume on November 25 last year.
Tanmoshi
has a cumulative 250,000 copies of its volumes in circulation.
Mugiko
began drawing a
manga adaptation
in
Monthly Comic Alive
magazine last May. The first volume shipped on November 21 last year.
Yen Press
licensed
the light novel in English on Saturday and plans to publish the first volume in June 2021.
Tantei wa Mou, Shindeiru.
placed fourth and third in the
2021 Kono Light Novel ga Sugoi!
rankings' Paperback and New Work category, respectively.
Announcement
Official site:
https://tanmoshi-anime.jp/
Official Twitter: @
tanteiwamou_
Source: Press Release,
LN News
Tantei wa Mou, Shindeiru.
on MAL

RSS Feed