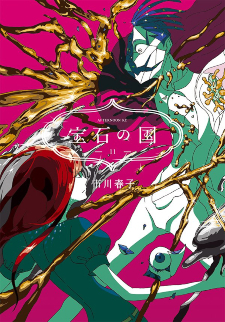 The February 2021 issue of the
Afternoon
magazine announced on Friday that
Haruko Ichikawa
's
Houseki no Kuni
(
Land of the Lustrous
) manga is entering an indefinite hiatus.
Synopsis
Long ago, Earth was struck by six meteorites, creating six moons and leaving a lone island in their wake. Those who could not make it to the island sank to the bottom of the ocean, where, over time, they slowly turned to crystal. As countless millennia passed, 28 of these crystallized lifeforms, known as the Lustrous, rose from the depths and resided on the island. Led by the wise Kongou-sensei, they must defend themselves against the seemingly infinite number of Lunarians, inhabitants of the moons who seek to harvest their valuable bodies for crafting weapons and jewelry.
Houseki no Kuni
centers around Phosphophyllite, a young gem about to turn three hundred years old. Clumsy, extremely fragile, and having no visible talent, they are one of the weakest gems around, unable to help in the fight against the Lunarians in any meaningful way. But as the battle with the otherworldly invaders rages on, they soon learn that power comes at a cost that no one should have to pay. [Written by MAL Rewrite]
Ichikawa began serializing the action fantasy manga in Afternoon magazine in October 2012. Kodansha published the 11th volume on July 20. Kodansha Comics
licensed
the manga in English in October 2016 and
published
the tenth volume on February 25. The 11th volume is scheduled to ship on October 5, 2021.
A 12-episode
television anime adaptation
by animation studio
Orange
aired in Fall 2017.
Sentai Filmworks
licensed the anime series in North America and released it on home video with both English subtitles and dub last May.
Houseki no Kuni
placed tenth in the male readers' division in the
2014 Kono Manga ga Sugoi!
rankings, and was nominated for the
8th Manga Taisho Awards
.
Source:
Afternoon February 2021 Issue
, @
unitkhs
on Twitter

RSS Feed