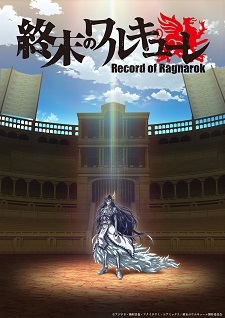 The wraparound band on the ninth volume of
Shuumatsu no Walküre
(
Record of Ragnarok
) announced a television anime adaptation for the manga on Saturday.
Warner Bros. Japan
simultaneously opened an official website, revealing staff, cast, a teaser visual (pictured), and teaser promo. The anime series will debut in 2021.
Synopsis
High above the realm of man, the gods of the world have convened to decide on a single matter: the continued existence of mankind. Under the head of Zeus, the deities of Ancient Greece, Norse mythology, and Hinduism, among others, call assembly every one thousand years to decide the fate of humanity. Because of their unrelenting abuse toward each other and the planet, this time the gods vote unanimously in favor of ending the human race.
But before the mandate passes, Brunhild, one of the 13 demigod Valkyries, puts forth an alternate proposal: rather than anticlimactically annihilating mankind, why not give them a fighting chance and enact Ragnarök, a one-on-one showdown between man and god? Spurred on by the audacity of the challenge, the divine council quickly accepts, fully confident that this contest will display the utter might of the gods. To stand a chance against the mighty heavens, Brunhild will need to assemble history's greatest individuals, otherwise the death knell will surely be sounded for mankind. [Written by MAL Rewrite]
Staff
Director:
Masao Ookubo
(
PriPara Movie: Mi~nna de Kagayake! Kirarin☆Star Live!
,
Saint Seiya Omega
episode director)
Series Composition:
Kazuyuki Fudeyasu
(
Tensei shitara Slime Datta Ken
,
Black Clover
)
Character Design: Masaki Satou (
Magic Kaito
,
Initial D
)
Music:
Yasuharu Takanashi
(
Beelzebub
,
Fairy Tail
)
Studio:
Graphinica
Cast
Brunhilde:
Miyuki Sawashiro
(
Noragami
)
Göll:
Tomoyo Kurosawa
(
Akudama Drive
)
Lu Bu:
Tomokazu Seki
(
Fate/stay night: Unlimited Blade Works
)
Thor:
Hikaru Midorikawa
(
SSSS.Gridman
)
Zeus:
Wataru Takagi
(
Dorohedoro
)
Heavy metal band
Maximum the Hormone
(
Death Note
) is performing the opening theme "KAMIGAMI."
Shinya Umemura
,
Takumi Fukui
, and illustrator
Ajichika
launched the dark fantasy battle action manga in
Monthly Comic Zenon
in November 2017. Coamix published the eighth volume on September 19.
Shuumatsu no Walküre
has a cumulative 4.3 million copies of its volumes in print.
Umemura, Fukui, and
Takeo Ono
began a spin-off manga titled
Shuumatsu no Walküre: Lu Bu Housen Hishouden
(
Record of Ragnarok: The Legend of Lu Bu Fengxiang
) in the same magazine last October. The third volume shipped on Saturday also features the anime announcement on its wraparound band. The spin-off reached a cumulative circulation of 500,000 copies with the second volume's release on September 19.
Shuumatsu no Walküre
placed fifth in the male readers' division in the
2019 Kono Manga ga Sugoi!
rankings, fifth in the
14th edition
and 12th in the
15th edition
of Recommended Comics Selected by Japanese Bookstore Employees, and ranked among the top 20 manga in the
fifth Tsugi ni Kuru Manga Taisho
's print category.
Teaser PV
Official site:
https://ragnarok-official.com/
Official Twitter: @
ragnarok_PR
Source:
Comic Natalie
Shuumatsu no Walküre
on MAL

RSS Feed