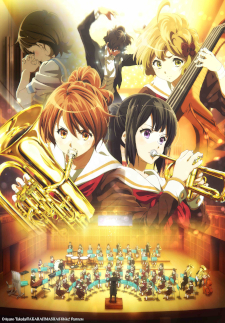 American film production and distribution company
Eleven Arts
announced its acquisition of the
Hibike! Euphonium
recap films
during its industry panel at the Anime NYC Online event on Friday. Eleven Arts—in partnership with home video distributor
Shout! Factory
—will release both films digitally on December 1, 2020.
Synopsis (
Hibike! Euphonium Movie 1: Kitauji Koukou Suisougaku-bu e Youkoso
)
"I'm so mad, I could die."
Kumiko Oumae could never forget the angry tears of Reina Kosaka who uttered those words at the concert band competition in her third year of middle school.
Now in high school, Kumiko is invited by Hazuki Katou and Sapphire Kawashima to join the concert band, but their performances are sorely lacking... Everything changes when a new music teacher, Noboru Taki, takes over. At first, the band members resist his disciplined approach, but gradually gain confidence as their playing improves. Kumiko also feels herself growing closer to Reina. Taki holds an audition to select the members to perform in the Sunrise Festival Competition...
Overcoming many obstacles, the concert band advances to the Kyoto regional competition. (Source: Eleven Arts)
Synopsis (
Hibike! Euphonium Movie 2: Todoketai Melody
)
Autumn is in the air as the Kitauji High School concert band prepares for the National Competition. The band hears troubling news that Asuka Tanaka, vice president of the club and one of the key euphonium players in the band, may quit! Asuka is beautiful and charismatic and everyone relies on her, but she also has a cool side and never reveals her true self. Kumiko doesn't get along with Asuka initially, but her feelings change when she learns that Asuka may actually drop out. Asuka has feelings about the euphonium that she cannot tell anyone else... (Source: Eleven Arts)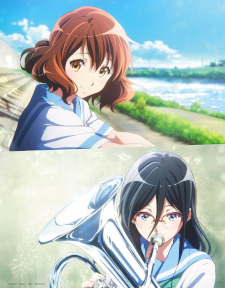 The anime series is based on
Ayano Takeda
's
Hibike! Euphonium
light novels. Takeda published the ten-volume series between December 2013 and June 2019.
Kyoto Animation
adapted the novels into a television anime spanning two 13-episode seasons. The
first season
aired in Spring 2015, followed by the
second
in Fall 2016. The recap films premiered in April 2016 and September 2017, respectively.
A film spin-off of the second season written and helmed by series production director
Naoko Yamada
(
K-On!
,
Koe no Katachi
)—
Liz to Aoi Tori
—premiered in April 2018.
Hibike! Euphonium Movie 1: Kitauji Koukou Suisougaku-bu e Youkoso
Trailer
Hibike! Euphonium Movie 2: Todoketai Melody
Trailer
Source: Press Release

RSS Feed