An official website launched by Aniplex revealed main staff, teaser visual (pictured above), and television format for the
anime adaptation
of
NisiOisiN
's
Bishounen Series
novel on Friday. The anime series will debut under the title
Bishounen Tanteidan
(
Pretty Boy Detective Club
) in 2021.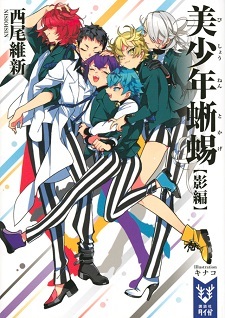 Akiyuki Shinbou
(
Kubikiri Cycle: Aoiro Savant to Zaregototsukai
,
Owarimonogatari
) is serving as the chief director at animation studio
Shaft
(
Mekakucity Actors
,
Assault Lily: Bouquet
).
Hiroki Yamamura
(
Fate/Extra: Last Encore
,
Soredemo Machi wa Mawatteiru
) is designing the characters.
Kodansha began publishing the novel series through its Kodansha Taiga label in October 2015, featuring illustrations by
Kinako
(
Gatchaman Crowds
). The 11th volume shipped on December 20 last year (pictured right).
Suzuka Oda
(
Shinrei Tantei Yakumo
) began drawing a manga adaptation titled
Bishounen Tanteidan
in
ARIA
magazine in April 2016. Following the discontinuation of ARIA in April 2018, the manga transferred to
Shounen Magazine Edge
in October that year. Kodansha published the fifth volume last September.
Vertical licensed the novel series in English in November 2019 and released the first volume on September 29. The second volume will go on sale on December 29. The publisher also
licensed
the manga adaptation in English last month and plans to ship the first volume next Summer.
Synopsis
Mayumi Dojima, a second-year student at the exclusive Yubiwa Academy middle school, has lost something—a star she glimpsed just once, ten long years ago. But help is on the way, in the form of the unofficial, secretive, and thoroughly mysterious Pretty Boy Detective Club! Rumored to solve problems within the school (most of which they themselves might as well created) for reasons aesthetic rather than financial, these five gorgeous boys sweep Mayumi into their world of excitement, danger, and overwhelming beauty. (Source: Vertical, edited)
Official site:
https://bishonen-tanteidan.com/
Official Twitter: @
nisioisin_anime
Source:
PR Times

RSS Feed