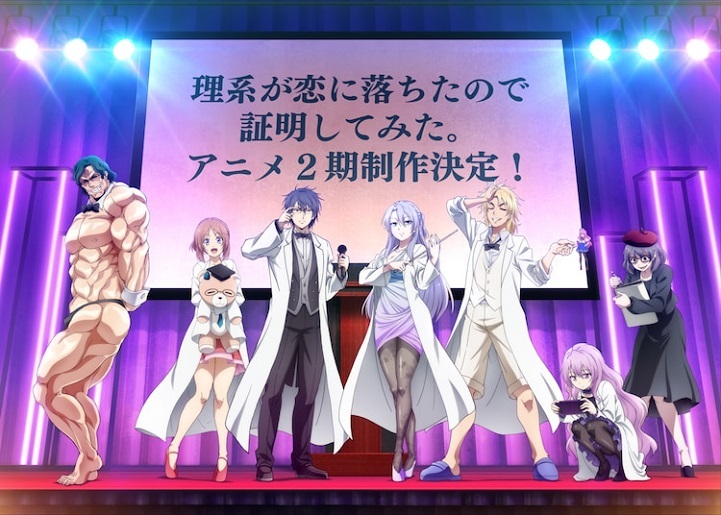 A second anime season of
Alfred Yamamoto
's
Rikei ga Koi ni Ochita no de Shoumei shitemita.
(
Science Fell in Love, So I Tried to Prove It
) manga was announced at the anime's special event on Saturday. The event also unveiled a visual commemorating the announcement (pictured above).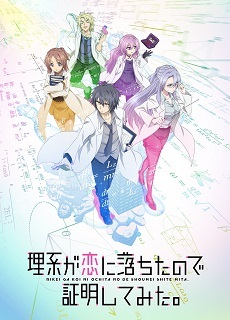 Synopsis
It is widely believed that science can provide rational explanations for the countless phenomena of our universe. However, there are many aspects of our existence that science has not yet found a solution to and cannot decipher with numbers. The most notorious of these is the concept of love. While it may seem impossible to apply scientific theory to such an intricate and complex emotion, a daring pair of quick-witted Saitama University scientists aim to take on the challenge.
One day the bold and beautiful Ayame Himuro outwardly declares that she is in love with Shinya Yukimura, her fellow logical and level-headed scientist. Acknowledging his own lack of experience with romance, Yukimura questions what factors constitute love in the first place and whether he is in love with Himuro or not. Both clueless in the dealings of love, the pair begin to conduct detailed experiments on one another to test the human characteristics that indicate love and discern whether they demonstrate these traits towards each other.
As Himuro and Yukimura begin their intimate analysis, can the two scientists successfully apply scientific theory, with the help of their friends, to quantify the feelings they express for one another? [Written by MAL Rewrite]
The
first anime season
aired in 12 episodes earlier this Winter. Amazon's Prime Video platform streamed all 12 episodes ahead of the television broadcast on January 11. Crunchyroll simulcast the show with both subtitles and English dub.
Tooru Kitahata
(
Boku wa Tomodachi ga Sukunai Next
) directed the anime series at
Zero-G
, with assistant director
Kenta Oonishi
(
Full Metal Panic! Invisible Victory
episode director).
Rintarou Ikeda
(
Tejina Senpai
) handled the series composition and also penned the script with
Michiko Yokote
(
Dagashi Kashi
).
Yamamoto originally published the romantic comedy manga, abbreviated as
RikeKoi
, as a one-shot in
Comic Meteor
web magazine in March 2016, which
began
regular serialization in May that year. Flex Comix published the eighth volume on March 12, with the ninth volume scheduled for an October 21 release.
RikeKoi
has a cumulative 1 million copies of its compiled volumes in circulation.
The manga was adapted into a four-episode live-action drama in September 2018. A live-action film serving as a sequel to the drama series opened in Japan on February 1 last year.
Official site:
https://rikekoi.com/
Official Twitter: @
rikeigakoini
Source:
Comic Natalie
Rikei ga Koi ni Ochita no de Shoumei shitemita. 2nd Season
on MAL

RSS Feed