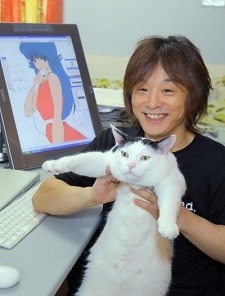 On Tuesday, Wave Studio
announced
on
Izumi Matsumoto
's blog that the mangaka passed away on October 6. He was 61 years old.
Matsumoto suffered from cerebrospinal fluid disease, stemming from a car accident when he was three years old. The disease forced him to stop working due to heavy headache, neck, and back pain. He suffered from general malaise due to the disease over the last few years. However, Matsumoto desired to return to work and continued to fight the illness, but was also worried due to a heart surgery he had several years ago. Last November, Matsumoto revealed on his blog that he had spinal stenosis. Matsumoto passed away in his sleep without suffering, according to his doctor.
Matsumoto is well known for creating the romantic comedy manga
Kimagure Orange☆Road
, which he serialized from March 1984 to September 1987 in
Weekly Shounen Jump
. Digital Manga Publishing released the manga in English digitally in 20 volumes between April 4 to November 26 in 2014. The publisher launched a kickstarter campaign in April 2016 to physically publish the series, and successfully reached its goal the following month.
Studio Pierrot
adapted the manga into a
48-episode television anime
that aired from April 1987 to March 1988, followed by
two sequel films
in 1988 and 1996. The manga also received an
eight-episode original video anime
, which was released between March 1989 and April 1991.
AnimEigo
licensed and released the television series, original video episodes, and the first film with English subtitles in the 1990s. The distributor's license for the anime series expired in 2006.
Discotek Media
relicenced all three installments in August 2018 and released them in two Blu-ray sets in March and August last year.
ADV Films
licensed and released the second film in English with both subtitles and dub on VHS and DVD in 1998 and 2001, respectively.
Source:
Oricon News

RSS Feed