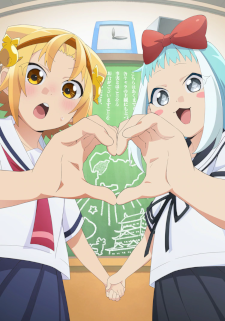 The official website for the
Yatogame-chan Kansatsu Nikki
series announced a third anime season on Saturday. The new season,
Yatogame-chan Kansatsu Nikki Sansatsume
, will premiere in 2021.
Synopsis
After growing up in Tokyo, high school student Jin Kaito moves to Nagoya where he meets Yatogame Monaka, a fellow student who puts her Nagoya dialect on full display. With her cat-like appearance and unvarnished Nagoya dialect, Yatogame won't open up to him at all. This popular local comedy is increasing the status of Nagoya through observation of the adorable Yatogame-chan! (Source: Crunchyroll)
The cast from the first two seasons will reprise their roles, led by
Haruka Tomatsu
(
Darling in the FranXX
) as Monaka Yatogame and
Mitsuhiro Ichiki
(
Bernard-jou Iwaku.
) as Kaito Jin.
Honoka Kuroki
(
Blue: Line Step Brush
) and
Ayasa Itou
(
BanG Dream!
) are joining the cast as Shiharu Itemae and Nanaho Koshiyasu, respectively.
Staff
Chief Director, Sound Director:
Hisayoshi Hirasawa
(
Yatogame-chan Kansatsu Nikki
chief director,
Ishuzoku Reviewers
sound director)
Series Composition:
WORDS in STEREO
(
Osake wa Fuufu ni Natte kara
)
Character Design: Satsuki Hayasaka (
Yatogame-chan Kansatsu Nikki
)
Art Director: Hitoshi Kawakami (
Yatogame-chan Kansatsu Nikki Nisatsume
)
Color Design: Tomoko Koyama (
Uchuu Patrol Luluco
)
Director of Photography:
Kouji Hayashi
(
Kiitarou Shounen no Youkai Enikki
)
Studio:
Saetta
Production Cooperation:
Creators in Pack
, LEVELS
Masaki Andou
's
Yatogame-chan Kansatsu Nikki
4-koma manga is focused on Aichi Prefecture, in particular its capital, Nagoya. Andou originally uploaded the manga to his personal Twitter account. It was first serialized in the July 2016 issue of monthly
Comic REX
, where it continues to be published. REX Comics released the eighth compiled volume on March 27 of this year, and will ship the ninth volume on October 27.
The
first anime season
produced by Saetta and Creators in Pack aired in Spring 2019. It consisted of twelve 3-minute episodes, a format that continued for the
second season
in Winter 2020. The seventh and eighth volumes of the manga bundled the first and second season—respectively—of the anime on Blu-ray.
Official site:
https://yatogame.nagoya/
Official Twitter: @
yatogame_chan
Source:
Anime! Anime!
Yatogame-chan Kansatsu Nikki Sansatsume
on MAL

RSS Feed