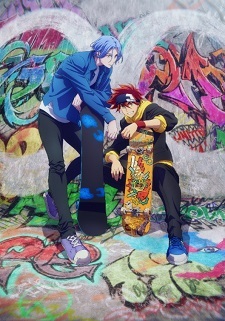 Aniplex announced an original television anime titled
SK∞: SK Eight
(
SK8 the Infinity
), revealing a key visual (pictured) and the first promotional video on the Yunika Vision screen in Shinjuku, Tokyo on Sunday. The anime series, produced by animation studio
Bones
(
Koukyoushihen Eureka Seven
,
Boku no Hero Academia
), will debut in January 2021.
Staff
Director:
Hiroko Utsumi
(
Free!
,
Banana Fish
)
Series Composition:
Ichirou Ookouchi
(
Code Geass: Hangyaku no Lelouch
,
Koutetsujou no Kabaneri
)
Character Design:
Michinori Chiba
(
Basilisk: Kouga Ninpou Chou
,
Mobile Suit Gundam: Iron-Blooded Orphans
)
Music:
Ryo Takahashi
(
ACCA: 13-ku Kansatsu-ka
,
Argonavis from BanG Dream!
)
Synopsis
Reki, a high school sophomore and skater, is addicted to "S," a highly secret and dangerous downhill skateboarding race that takes place in an abandoned mine. The skaters are especially wild about the "beefs," or heated battles that erupt in the races.
Reki takes Langa, a transfer student returning to Japan after studying abroad, to the mine where the races are held. Langa, who has no skateboarding experience, finds himself pulled into the world of "S"... (Source: Aniplex US)
PV
Note: The video is region-locked; click here for an alternative link.
Official site:
https://sk8-project.com/
Official Twitter: @
sk8_project
Source:
PR TImes
SK∞
on MAL

RSS Feed