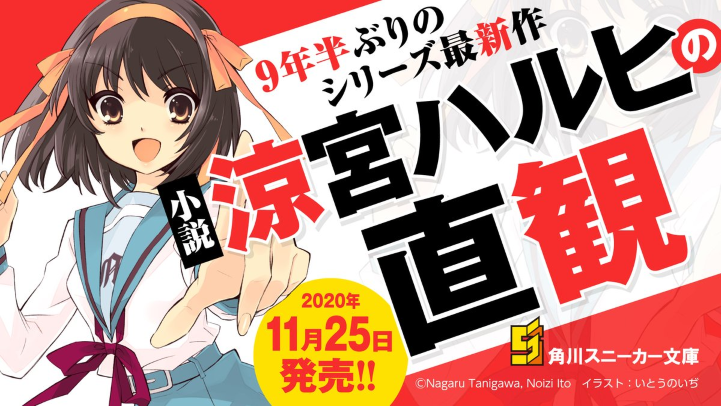 Kadokawa opened an official Twitter account for the
Haruhi Suzumiya
light novel series on Monday, announcing that after a nine and a half year hiatus, author
Nagaru Tanigawa
and illustrator
Noizi Itou
's original franchise will receive a new installment on November 25. The new novel, titled
Suzumiya Haruhi no Chokkan
(
The Intuition of Haruhi Suzumiya
), will be available to pre-order on September 1.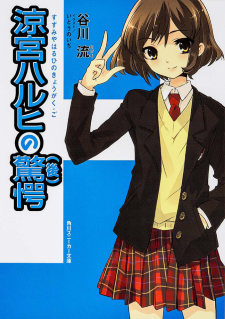 Consisting of three separate stories including one original new entry into the
Haruhi Suzumiya
franchise, the novel will be more than 250 pages long. The titles featured include the short story
Atezuppo Numbers
(
Random Numbers
) released in Itou's
Haruhi Hyakka
art book in 2013,
Nanafushigi Overtime
(
Seven Wonders Overtime
), which was
published
in Kadokawa's 30th anniversary
The Sneaker Legend
magazine in 2018, and the new story
Tsuruya-san no Chousen
(
Tsuruya's Challenge
).
Synopsis (Tsuruya's Challenge)
An email is sent to the SOS Brigade's direct address, which is rarely used. The sender was Mr. Tsuruya who is currently away from school while traveling. Attached to the email saying, "I'm asking you to answer, I'll ask everyone to give me the answer." It was a challenge from Mr. Tsuruya to the SOS Brigade.
Tanigawa and Itou began serializing the light novel series in
The Sneaker
in 2003. The 11th and latest volume
Suzumiya Haruhi no Kyougaku
(
The Surprise of Haruhi Suzumiya
) was published in May 2011 (pictured right). The series has a cumulative 20 million copies of its volumes in print. Yen Press published the novel in English and shipped the tenth volume in November 2013.
Kyoto Animation
produced a
television anime adaptation
in April 2006, airing out of chronological order. The anime was rebroadcast linearly in 2009 with the
second season
. The
Suzumiya Haruhi no Shoushitsu
(
The Disappearance of Haruhi Suzumiya
) anime film adapting the fourth volume premiered in February 2010.
Gaku Tsugano
serialized a
manga adaptation
in Kadokawa's
Shounen Ace
magazine from September 2005 to September 2013. Yen Press published the manga in English between October 2008 and November 2014.
Kimirano special page:
https://kimirano.jp/special/haruhi_chokkan/
Official Twitter: @
haruhi_official
Source:
Dengeki Online

RSS Feed