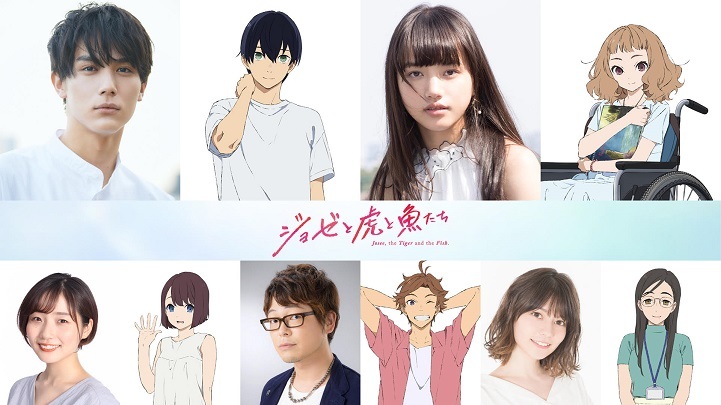 The official website of the
Josee to Tora to Sakana-tachi
(
Josee, the Tiger and the Fish
) anime film revealed cast members (pictured above), additional staff, and the first trailer on Thursday. The film will open in theaters in Japan on December 25, following the
delay
from its Summer premiere due to the effects of COVID-19.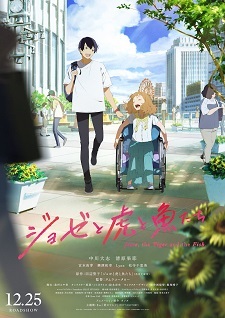 Japanese actor Taishi Nakagawa (
GTO: Great Teacher Onizuka
live-action drama) is playing the male lead Tsuneo Suzukawa.
Kaya Kiyohara
(
Taifuu no Noruda
) is starring as the protagonist Josee. The supporting cast members are as follows:
Mai Ninomiya:
Yume Miyamoto
(
SSSS.Gridman
)
Hayato Matsuura:
Kazuyuki Okitsu
(
Orange
)
Kana Kishimoto:
Lynn
(
Bokutachi wa Benkyou ga Dekinai
)
Veteran actress Chiemi Matsutera (
Akari no Sato
live-action film) is voicing the character Chizu Yamamura. Singer-songwriter Eve is performing the theme song "Ao no Waltz."
Staff
In-film Drama:
Nanako Matsuda
(
Chameleon no Kakurenbo
children book)
Production Design: Akihiro Hirasawa (
Hisone to Maso-tan
art design),
Fumihiro Katagai
(
Princess Principal
mechanical design),
Shouko Nakamura
(
Mawaru Penguindrum
animation director)
Layout Design:
Toshihiro Kawamoto
(
Kekkai Sensen
character design)
Art Director:
Yuuji Kaneko
(
Black Fox
)
Color Design:
Hiroko Umezaki
(
Yozakura Quartet
)
Director of Photography:
Tsuyoshi Kanbayashi
(
Bungou Stray Dogs
)
3DCG Director: Takuma Miyake (
Carole & Tuesday
)
Editing:
Kumiko Sakamoto
(
A.I.C.O.: Incarnation
)
Sound Director:
Kazuhiro Wakabayashi
(
Sayonara no Asa ni Yakusoku no Hana wo Kazarou
)
Sound Production:
Sonilude
Koutarou Tamura
(
Noragami
) is directing the film at animation studio
Bones
, with screenwriter
Sayaka Kuwamura
(
Strobe Edge
live-action film).
Haruko Iizuka
(
Kujira no Kora wa Sajou ni Utau
) is serving as both the character designer and chief animation director.
Nao Emoto
(
Araburu Kisetsu no Otome-domo yo.
) and Illustrator
loundraw
(
Tsuki ga Kirei
original character design) are credited for original character design and concept design, respectively.
Evan Call
(
Violet Evergarden
) composing the music.
The anime film adapts
Seiko Tanabe
's short story, which she penned in Monthly Kadokawa's June 1984 issue. Kadokawa published the story as a novel in April 1985 and re-released it under the Kadokawa Bunko imprint in July 1987. The late author's work was also adapted into a live-action film in 2003. Nao Emoto began a manga adaptation in
Da Vinci
magazine on January 6.
Trailer
Source: Press Release,
Moca News

RSS Feed