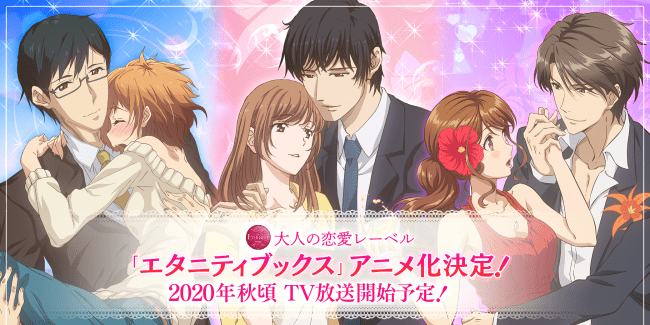 Publishing company Alphapolis opened an official website on Tuesday for a television anime that will adapt 12 romantic works from their Eternity Books label. The anthology will be titled
Eternity: Shinya no Nurekoi Channel ♡
(
Eternity: Late Night Wet Love Channel
) and is scheduled to premiere in Fall 2020. The official website also revealed the main staff for the production.
Tokyo MX will broadcast a standard version of the anime. An uncensored "deluxe" version will stream on the
official website
for Eternity Books.
Adapted Works
Kimi ga Suki Dakara
by
Miju Inoue
Dekiai Days
by
Maki Makihara
Ai Sareru no mo Oshigoto Desu ka!?
by
Subaru Kayano
Machikogareta Happy End
by
Miki Yoshizakura
Noraneko wa Ai ni Oboreru
by
Shuri Sakura
Bousou Proposal wa Gokuama Shitate
by Mayu Fuyuno
Purin no Tanaka-san wa Kedamono
by
Zakku Yukito
Reikoku CEO wa Hisho ni Oboreru ka?
by Ruru Ruzuki
Soumubu no Maruyama-san, Ikemen Shachou ni Dekiai Sareru
by
Hirumi Yuuin
152 Senchi 62 Kilo no Koibito
by Aoi Takakura
Watashi to Kare no Omiai Shijou
by
Mao Yukimura
4-banme no Iinazuke Kouho
by
Seiya Togashi
Staff
Director:
Hideki Araki
(
Shuudengo, Capsule Hotel de, Joushi ni Binetsu Tsutawaru Yoru.
), Iroha,
Ryuuichi Baba
(
Haitai Nanafa
episode director), Rokurou Kuramori (
8-shaku 8-wa Kerakumeguri: Igyou Kaikitan The Animation
)
Script: Yuuzou Asuka (
Nobunaga-sensei no Osanazuma
series composition), Ryousuke Kobayashi (
Love x Holic: Miwaku no Otome to Hakudaku Kankei - The Animation
)
Character Design: Hideki Araki (
Allargando The Animation
), Iroha, Ryuuichi Baba (
Danna ga Nani wo Itteiru ka Wakaranai Ken
),
Kan Soramoto
(
Ousama Game The Animation
)
Art:
Namu Animation
Sound Director (Standard Edition): Kotaru Toyoshima
Sound Director (Deluxe Edition): Funahashi-kun
Sound Production (Standard Edition): Kanade Creative
Studio:
Seven
Official site:
https://eternity-nurechan.com/
Official Twitter: @
Eternity_Anime
Source:
PR Times
Eternity: Shinya no Nurekoi Channel ♡
on MAL
News submitted by
Aidan

RSS Feed