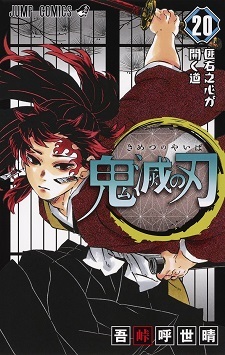 Koyoharu Gotouge
's supernatural action manga
Kimetsu no Yaiba
(
Demon Slayer: Kimetsu no Yaiba
) ended its four-year run in the 24th issue of
Weekly Shounen Jump
on Monday. Gotouge thanked the readers for their continued support and asked to look forward to their next work.
The issue also announced that
Ryouji Hirano
(
Bozebeats
) will draw a short spin-off manga subtitled
Rengoku Gaiden
. The manga will be serialized in Weekly Shounen Jump.
Synopsis
Tanjirou Kamado lives with his impoverished family on a remote mountain. As the oldest sibling, he took upon the responsibility of ensuring his family's livelihood after the death of his father. On a cold winter day, he goes down to the local village in order to sell some charcoal. As dusk falls, he is forced to spend the night in the house of a curious man who cautions him of strange creatures that roam the night: malevolent demons who crave human flesh.
When he finally makes his way home, Tanjirou's worst nightmare comes true. His entire family has been brutally slaughtered with the sole exception of his sister Nezuko, who has turned into a flesh-eating demon. Engulfed in hatred and despair, Tanjirou desperately tries to stop Nezuko from attacking other people, setting out on a journey to avenge his family and find a way to turn his beloved sister back into a human. [Written by MAL Rewrite]
Gotouge received an honorable mention at the
70th Jump Treasure Newcomer Manga Awards
for their
Kagarigari
one-shot in 2013, which became the prototype for
Kimetsu no Yaiba
. Weekly Shounen Jump began serializing the manga in February 2016. Shueisha published the 20th volume on May 13 (pictured right), with the 21st volume scheduled for a July 3 release.
Kimetsu no Yaiba
has a cumulative 60 million copies of its compiled volumes in circulation.
A
26-episode television anime
produced by
ufotable
premiered in Spring 2019. Aniplex of America
licensed
the anime series and
simulcast
it on Crunchyroll, Funimation, and Hulu. The company will
release
the anime on two limited edition Blu-rays on June 30 and November 24, and
partnered
with Funimation to distribute two standard edition Blu-rays in September 2020 and January 2021. The show began airing with an English dub on Adult Swim's Toonami programming block in October 2019.
The
Kimetsu no Yaiba: Mugen Ressha-hen
(
Demon Slayer: Kimetsu no Yaiba - Mugen Train
) anime film will open in theaters in Japan on October 16. The sequel film will cover the Mugen Ressha-hen (Infinity Train arc, also known as the Demon Train arc), which spans from volume seven to eight. The lead cast members and production staff are returning from the television anime. Toho and Aniplex will distribute the film.
Ryouji Hirano published a two-chapter side story subtitled
Tomioka Giyuu Gaiden
in Weekly Shounen Jump last April. Hirano also drew a 26-chapter 4-koma spin-off titled
Kimetsu no Aima!
in
Shounen Jump+
between April and September last year.
Aya Yajima
(
Ao no Exorcist
light novel) wrote two novels under the Jump J Books imprint subtitled
Shiawase no Hana
(
Flower of Happiness
) and
Kataha no Chou
(
One-Winged Butterfly
) in February and October last year, respectively. Yajima will
publish
a third novel focusing on the Wind Pillar Sanemi Shinazugawa, subtitled
Kaze no Michishirube
(
The Wind's Guidepost
), on July 3. The light novels have reached a cumulative circulation of 1.8 million.
VIZ Media
licensed
the manga in English in July 2017 and
simulpublishes
it with the Japanese release in their new Shounen Jump platform. The 12th volume
shipped
on May 5, with the 13th volume planned for release on June 2. Shueisha's Manga Plus service also began
simulpublishing
the manga in English last January.
Kimetsu no Yaiba
placed sixth in the male readers' division in the
2020 Kono Manga ga Sugoi!
rankings. The anime series was voted the best show at the
2019 Newtype Anime Awards
and won Animation of the Year in the
2020 Tokyo Anime Awards
' television category.
Source:
Comic Natalie

RSS Feed