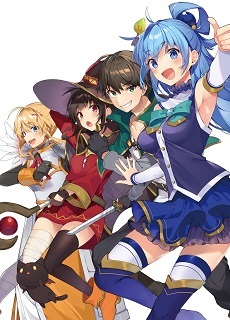 The official Twitter account of novelist
Natsume Akatsuki
announced on Wednesday that his
Kono Subarashii Sekai ni Shukufuku wo!
(
Konosuba: God's Blessing on This Wonderful World!
) light novel will end with the 17th volume on May 1.
Synopsis
After dying a laughable and pathetic death on his way back from buying a game, high school student and recluse Kazuma Satou finds himself sitting before a beautiful but obnoxious goddess named Aqua. She provides the NEET with two options: continue on to heaven or reincarnate in every gamer's dream—a real fantasy world! Choosing to start a new life, Kazuma is quickly tasked with defeating a Demon King who is terrorizing villages. But before he goes, he can choose one item of any kind to aid him in his quest, and the future hero selects Aqua. But Kazuma has made a grave mistake—Aqua is completely useless!
Unfortunately, their troubles don't end here; it turns out that living in such a world is far different from how it plays out in a game. Instead of going on a thrilling adventure, the duo must first work to pay for their living expenses. Indeed, their misfortunes have only just begun! [Written by MAL Rewrite]
Akatsuki originally published the comedy fantasy novel, also known by its short name
Konosuba
, on the Shousetsuka ni Narou website from December 2012 to October 2013. Kadokawa began printing the series under its Sneaker Bunko label that month, featuring illustrations by
Kurone Mishima
(
Rokudenashi Majutsu Koushi to Akashic Records
). The 16th and latest volume shipped on August 1 last year.
Konosuba
has a cumulative 9 million copies of its volumes in print.
Masahito Watari
began drawing a
manga adaptation
in
Monthly Dragon Age
in September 2014. Kadokawa published the tenth volume in August 2019, with the 11th volume planned for an April 9 release.
Akatsuki also penned a five-volume spin-off titled
Kono Subarashii Sekai ni Shukufuku wo!: Kono Subarashii Sekai ni Bakuen wo!
(
Konosuba: An Explosion on This Wonderful World!
) between July 2014 and March 2019.
Kasumi Morino
serialized a
manga adaptation
in
Monthly Comic Alive
from April 2016–December 2017 and launched a
sequel
the following February. The third volume went on sale on September 20 last year.
Studio Deen
produced
two television anime seasons
in Winter 2016 and 2017, each running for ten episodes. The
Kono Subarashii Sekai ni Shukufuku wo!: Kurenai Densetsu
(
Konosuba: God's Blessing on This Wonderful World! - Legend of Crimson
) anime film premiered in Japan last year on August 30, adapting the fifth volume. The ninth and 12th volumes also bundled
two original video anime episodes
.
Crunchyroll simulcast the anime series with subtitles and debuted an English dub for both seasons in January and February 2019, respectively. Discotek Media licensed the first season and original video episode for home video release last month and will release it on May 26.
Yen Press licensed the light novel and spin-off in English and published the tenth volume in December 2019 and second spin-off volume on February 18. The company is also publishing the manga adaptations of both novel series.
Konosuba
placed ninth
in the 2017 edition of Kono Light Novel ga Sugoi! rankings. The television anime ranked among the top ten shows in the
2016 Newtype Anime Awards
.
Novel special site:
https://sneakerbunko.jp/konosuba/
Source:
Dengeki Online

RSS Feed