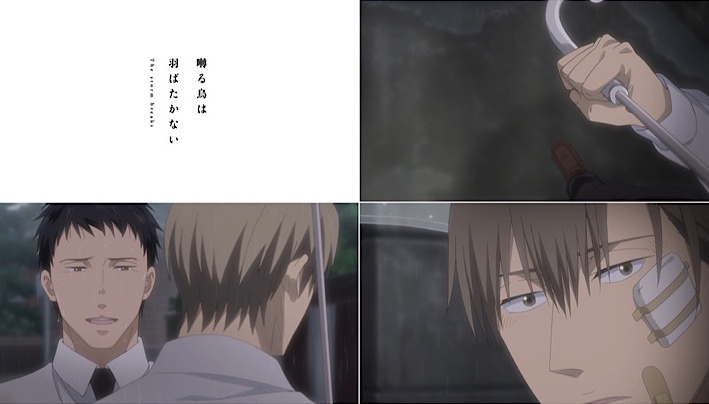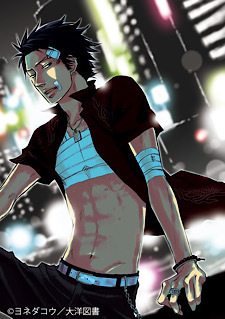 Following the theatrical release of
Saezuru Tori wa Habatakanai: The Clouds Gather
(
Twittering Birds Never Fly: The Clouds Gather
) in Japan on Saturday, the anime's official website announced a sequel film and original video animation. The film is titled
Saezuru Tori wa Habatakanai: The Storm Breaks
. The OVA,
Saezuru Tori wa Habatakanai: Don't Stay Gold
, will be released with a special edition of the manga's seventh volume.
A cut scene preview for the sequel film (pictured above) shows Kageyama and Yashiro as students exchanging conversation in heavy rainfall. More details will be announced at a later date.
The OVA will adapt a one-shot short story written by the
manga
's original creator
Kou Yoneda
depicting an encounter between Kageyama and Kuga. Cover art by Yoneda was also unveiled (pictured right). Staff who worked on
Saezuru Tori wa Habatakanai: The Clouds Gather
will return to work on the OVA. A release date for the manga's seventh volume bundle has yet to be announced.
The
Saezuru Tori wa Habatakanai
anime series adapts Kou Yoneda's yaoi drama manga of the same name.
The Clouds Gather
film and the
Don't Stay Gold
OVA are directed by
Kaori Makita
at
GRIZZLY
, with
Hiroshi Seko
writing the script. The film premiered in Japanese theaters on February 15. It was also the first work released under Fuji TV's Blue Lynx label, which focuses on theatrical boys' love productions.
Yoneda's manga began serialization in Taiyou Tosho's
ihr hertZ
magazine in March 2008 as a sequel to two previous one-shot stories titled
Tadayoedo Shizumazu, Saredo Naki mo Sezu
and
Don't Stay Gold
. More than 1.5 million copies are in circulation. The sixth compiled volume was shipped in Japan on May 1, 2019. The series has been published in English by Digital Manga's Juné imprint since 2014, with the third volume released on March 21, 2017.
Source:
animate Times

RSS Feed