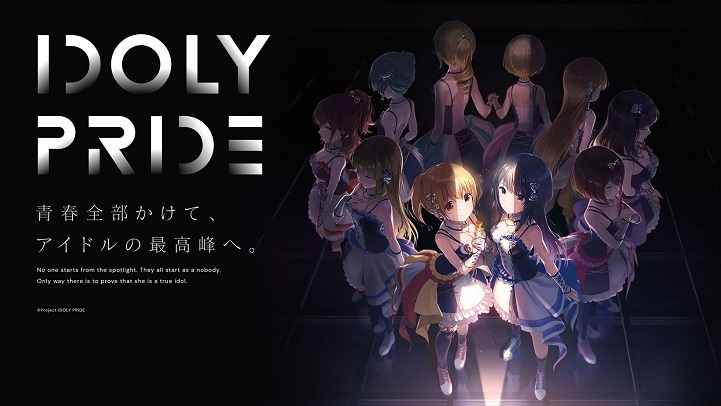 A multimedia idol project titled
Idoly Pride
announced during its first special livestream on Monday that a television anime is in production for the franchise. Cast members, staff, and the promotional video for the project have also been revealed.
Synopsis
To become an idol, I shed blood, sweat, and tears. Even so, I push on. I want to shine. I want to earn it. I want to become number one. I want to smile. I want to make my dreams come true. I want to look back at a sea of people. I want to be noticed. I want to find it. I want to overcome obstacles. I have only pride inside my chest.
No one is in the spotlight from the beginning. Everyone is weak. Only those who do not break will reach the highest peak to become an idol. This is the story of idols who face big dreams and harsh reality.
Cast
Hoshino Production
Kotono Nagase: Mirai Tachibana
Sakura Kawasaki:
Mai Kanno
(
Danna ga Nani wo Itteiru ka Wakaranai Ken
)
Rei Ichinose: Moeko Yuuki
Nagisa Ibuki: Kokona Natsume
Haruko Saeki: Nao Sasaki
Saki Shiraishi: Koharu Miyazawa
Chisa Shiraishi:
Kanon Takao
(
Uchi no Ko no Tame naraba, Ore wa Moshikashitara Maou mo Taoseru kamo Shirenai
)
Suzu Narumiya: Kanata Aikawa
Mei Hayasaka: Moka Hinata
Shizuku Hyodo:
Yukina Shutou
(
Uma Musume: Pretty Derby TV
)
TRINITYAiLE
Rui Tendo:
Sora Amamiya
(
Kono Subarashii Sekai ni Shukufuku wo!
)
Yu Suzumura:
Momo Asakura
(
Charlotte
)
Sumire Okuyama:
Shiina Natsukawa
(
Bungou Stray Dogs
)
Two more idol groups have been teased, but cast information has not yet been revealed. More information regarding the anime will be revealed at AnimeJapan 2020.
Staff
Original Concept: Yoshiki Minazumi, Kaoru Adachi (
Love Live! School Idol Project
producer),
Jukki Hanada
(
Hibike! Euphonium
series composition)
Director: Yuu Kinome (
Asobi Asobase
assistant director)
Series Composition:
Tatsuya Takahashi
(
The iDOLM@STER Cinderella Girls
,
Domestic na Kanojo
)
Character Design:
Sumie Kinoshita
(
Gi(a)rlish Number
)
Studio:
Lerche
Production: CAAnimation
Idoly Pride
is a collaboration between
CyberAgent
's subsidiary QualiArts,
Music Ray'n
, and
Straight Edge
. The TV anime will be the first title by CyberAgent's CAAnimation label, which was founded in October 2018. The multimedia project will also include live performances, music, video games, and event appearances.
Project PV
Official site:
https://idolypride.jp
Official Twitter: @
idolypride
Source:
Anime Recorder
News submitted by
vanillaguard
Idoly Pride
on MAL

RSS Feed