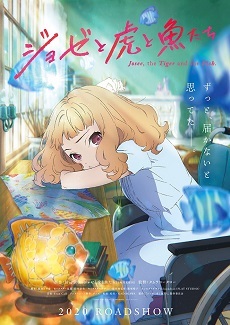 Publishing company Kadokawa announced an anime film adaptation of Seiko Tanabe's
Josee to Tora to Sakana-tachi
(
Josee, the Tiger and the Fish
) novel on Tuesday. The film is being produced by animation studio
Bones
for a 2020 premiere.
Synopsis
A youth romantic drama with themes of growing up, the story focuses on college student Tsuneo and dreamer Josee, who lives her life stuck in a wheelchair. Josee—named after the heroine in Françoise Sagan's
Wonderful Clouds
—spends most of her days reading and painting until by chance she encounters Tsuneo, and decides it's time to face the real world.
Staff
Director:
Koutarou Tamura
(
Noragami
,
Negima!?
episode director)
Original Character Design:
Nao Emoto
(
Araburu Kisetsu no Otome-domo yo.
)
Character Design, Chief Animation Director:
Haruko Iizuka
(
Inu x Boku SS
,
Tanaka-kun wa Itsumo Kedaruge
)
Concept Design:
loundraw
(
Tsuki ga Kirei
,
Kimi no Suizou wo Tabetai
original character design)
Music:
Evan Call
(
Violet Evergarden
,
Hakumei to Mikochi
)
Distribution:
Shochiku
,
Kadokawa
Screenwriter Sayaka Kuwamura (
Strobe Edge
,
Over Drive
live-action film) is writing the script for the anime film. Nao Emoto will also launch a manga adaptation in
Da Vinci
magazine's February issue on January 6, 2020.
Tanabe published the
Josee to Tora to Sakana-tachi
short story in Monthly Kadokawa's June 1984 issue. Kadokawa Shoten shipped the story as a novel in April 1985 and re-released it under the Kadokawa Bunko imprint in July 1987. The late author's work also inspired a live-action film adaptation in 2003, starring Satoshi Tsumabuki and Chizuru Ikewaki as Tsuneo and Josee, respectively.
Official site:
https://joseetora.jp/
Official Twitter: @
joseetora_movie
Official Instagram: @
joseetora_movie
Source:
Entertainment Station
News submitted by
Kingsman117
Josee to Tora to Sakana-tachi
on MAL

RSS Feed