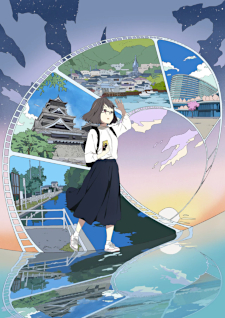 A 12-episode TV anime series titled
Natsunagu!
was announced on Monday. The anime has been produced entirely by Kumamoto's local government, as a part of the ongoing reconstruction efforts following the 2016 earthquakes. Three main staff and one main cast member were announced, all from Kumamoto Prefecture. The broadcast will begin in January 2020, with a free application to watch the episodes also in planning.
Synopsis
Natsuna Kunugi, a university student in Tokyo, visits Kumamoto in search of friends who she could not contact following the Kumamoto earthquakes. There, she meets local people who are full of compassion and uniqueness, including the energetic junior high school student, Izumi. A heartfelt coming-of-age story begins.
Cast
Izumi Chiba:
Yoshino Aoyama
(
Wake Up, Girls!
)
Staff
Director:
Yasuyuki Honda
(episode director of
Kamisama Hajimemashita
,
Naruto
)
Screenplay:
Domeshi
(
Otona no Bouguya-san
)
Producer: Shun Fukudome
Kumamoto was struck by a 7.0 magnitude earthquake on April 16, 2016, two days after a foreshock earthquake of magnitude 6.2. Numerous aftershock earthquakes were also recorded, reaching over 4.5 in magnitude. The disaster killed 50 people and injured at least 3,000, caused wide-spread damage, and forced multiple evacuations. Kumamoto Prefecture Tokyo Office Director stated that even though 3 years and 7 months have passed, there are still scars remaining today.
Official Twitter: @
NatsunaguPR
Source:
Comic Natalie
Natsunagu!
on MAL
Update November 21
The official website announced two cast members on Thursday.
Cast
Natsuna Keyaki:
Ai Hashimoto
(
Blood-C: The Last Dark
)
Shige Chiba:
Shigeru Chiba
(
3-gatsu no Lion
)
Source:
Comic Natalie

RSS Feed