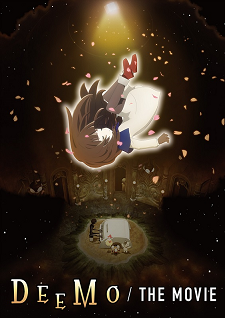 An anime movie based on Rayark Inc.'s rhythm game
Deemo
was announced during their panel at Anime NYC 2019. The announcement included staff members and a release date of 2020. Pony Canyon released a short PV for the movie in addition to the announcement.
Game Synopsis
Deemo is a mystic character lives in solitude, a castle, all by itself. A little girl falls from the sky, not knowing who she is, where she comes from. To help the little girl back to her world, Deemo comes to realize a tree keeps growing tall on top of the piano whenever it plays. What would Deemo do when it gets comfortable with the companionship it never had before? What if the little girl couldn't deal with the truth when her seemingly lost memories regained?! (Source: Official site)
Staff
Original Creator: Rayark Inc.
Chief Director:
Junichi Fujisaku
(
Koukaku Kidoutai: Stand Alone Complex
screenplay)
Director: Shuuhei Matsushita (
Kono Yo no Hate de Koi wo Utau Shoujo YU-NO
episode director)
Assistant Director:
Yoshihiro Hiramine
(
Suzakinishi The Animation
)
Screenplay: Junichi Fujisaku,
Bunoh Fujisawa
(
Yuuyake Dandan
script)
Character Design: Mebachi (
Kase-san and Morning Glories
key animation)
Image board: Yoshitsugi Yoshida (
Nerawareta Gakuen
image art)
Art Director:
Hiromasa Ogura
(
91 Days
)
Art Design: Taiyou Yoshida (
Hashiri Tsuzukete Yokattatte.
prop design)
Color Design:
Yumiko Katayama
(
Hirune Hime: Shiranai Watashi no Monogatari
)
CG Animation Director: Hiroshi Suzuki (
Fate/Grand Order: Shinsei Entaku Ryouiki Camelot - Wandering; Agateram
)
Modeling Supervision: Shunsuke Imaizumi
Technical Director: Kouichirou Tamura
3DCG Production: Studio Bros Inc.
Color Grading: Hisashi Ezura (
xxxHOLiC Movie: Manatsu no Yoru no Yume
), Akira Saitou (
Noblesse: Awakening
color design)
Editing:
Yoshinori Murakami
(
Higashi no Eden
)
Sound Director:
Jin Aketagawa
(
Fruits Basket 1st Season
)
Theme Song Composition:
Yuki Kajiura
(
Fate/Zero
,
Kara no Kyoukai
)
Sound Production:
Magic Capsule
Studio:
Signal.MD
,
Production I.G
Production:
Pony Canyon
PV
Rayark Inc. is an independent game studio based in Taiwan that has both developed and released rhythm games such as
Cytus
,
Deemo
, and
VOEZ
. Deemo was first released in 2013 on both iOS and Android devices. The game was then released in Japan in 2015 for the PlayStation Vita, which was followed by the North American and European release in 2017. It was also released on the Nintendo Switch the same year. An updated version of the game, titled
Deemo: Reborn
, will be released on November 21 for the PlayStation 4.
Source:
Moca News
Deemo the Movie
on MAL

RSS Feed