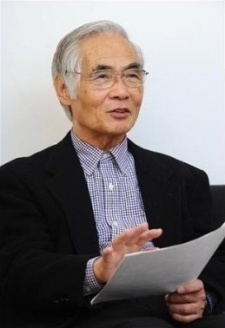 Taku Mayumura
died of aspiration pneumonia at a hospital in Osaka on November 3. The science-fiction author was 85.
Mayumura was born as Takuji Murakami in Osaka city in 1934. An Osaka University alumni with a degree in economics, Mayumura wrote short novels while working as a copywriter and submitted them to contests in literary magazines. In 1961, he won second place in S-F Magazine's Kuusou Kagaku Shousetsu Contest (Science Fiction Contest) for his story
Kakyuu Idea-man
and made his professional debut in the October issue.
Mayumura's novels would later inspire anime projects such as
Madhouse
's 1986 film
Toki no Tabibito: Time Stranger
and
Sunrise
's 2012 film
Nerawareta Gakuen
(
Psychic School Wars
), which is based on the 1973 novel with the same name.
While his wife was suffering from cancer, Mayumura wrote her a story a day to encourage her. These stories were later published as
Tsuma ni Sasageta 1778-wa
(
1,778 Stories Dedicated to My Wife
) and inspired a live action film in 2011. According to NHK, Mayumura's family said the author continued writing even during his own years-long battle with cancer, until just before his death.
Source:
NHK
News submitted by
FamiliarWayside

RSS Feed