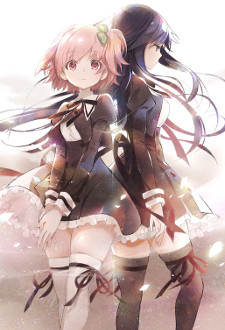 During the Assault Lily Exchange Meeting: Hajimemashite event on Sunday, it was announced that the multimedia project is getting a TV anime produced by
Shaft
. Titled
Assault Lily: Bouquet
, the series will be directed by
Shouji Saeki
(
Houkago no Pleiades
,
Medaka Box
) and
Mieko Hosoi
(
Aiura
) will design characters for animation.
Project Synopsis
In the near future, humanity faces imminent destruction from mysterious creatures known as "Huge." The world wages war against the Huge, and develops the anti-weapon "CHARM" (Counter Huge Arms) by combining science and magic. CHARM works more effectively when used by teenage girls, and those who use the weapons are revered as "Lilies." The Lilies are trained at military academies called "Gardens," which also serve as bases to protect and advise people. This is a story about girls who aim to become Lilies so they can protect Earth.
As part of the project, a stage play by Bushiroad will feature actresses who are also voicing the characters.
Assault Lily: League of Guardian
will take place at Tokyo's Shinjuku Face venue from January 9-15.
Cast
Riri Hitotsuyanagi:
Hikaru Akao
(
Back Street Girls: Gokudolls
)
Yuyu Shirai:
Yuuko Natsuyoshi
(
Journal of the Mysterious Creatures
)
Nouvelle Johan Kaede:
Mikako Izawa
(
Valkyrie Drive: Mermaid
)
Fumi Futagawa:
Rimi Nishimoto
(
BanG Dream!
)
Tazusa Andou:
Risa Tsumugi
(
Arifureta Shokugyou de Sekai Saikyou
)
Thi Mai Yoshimura:
Haruki Iwata
(
Shoujo☆Kageki Revue Starlight
)
Shenlin Kuo:
Sana Hoshimori
(
Hashiri Tsuzukete Yokattatte
)
Yujia Wang:
Hikaru Toono
(
Bermuda Triangle: Colorful Pastrale
)
Miriam Hildegard Von Gropius:
Takahashi Karin
(
Dr. Stone
)
Assault Lily
is based on the range of 1/12-scale dolls and figurines created by Azone International and acus in 2013. The project also inspired two novels—
Assault Lily: Ichiryuutai, Shutsugeki Shimasu!
and
Assault Lily Arms
in June 2015 and July 2017, respectively.
Official site:
https://assaultlily-pj.com/
Official Twitter: @
assaultlily_pj
Source:
Comic Natalie
News tip submitted by
Animechannel2213
Assault Lily: Bouquet
on MAL

RSS Feed