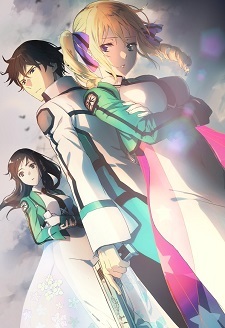 A second anime season of
Tsutomu Satou
's
Mahouka Koukou no Rettousei
(
The Irregular at Magic High School
) light novel series was announced at the Dengeki Bunko Aki no Namahousou Festival event on Sunday. The new season, titled
Mahouka Koukou no Rettousei: Raihousha-hen
(
The Irregular at Magic High School: Visitor Arc
), will adapt volumes nine through eleven, and debut in 2020.
Risako Yoshida
(
Mahouka Koukou no Rettousei: Hoshi wo Yobu Shoujo
) will direct the second season at animation studio
8bit
. Original illustrator
Kana Ishida
will design the characters.
Taku Iwasaki
(
Noragami
,
Katanagatari
) is returning as the music composer. The main cast members will also reprise their roles.
Synopsis
Shiba Miyuki's classmate Kitayama Shizuku is on her way to study abroad. For magicians, this is normally impossible, since allowing the genes of someone who can use magic outside their home country's borders is tantamount to giving up national secrets. But it's allowed to happen in one case-exchange programs. And that's how Angelina Kudou Shields has arrived in Japan from the USNA to study at First High.
Around the time Lina arrived in Japan magicians began getting attacked by a mysterious being who leaves his victims drained of blood. Will Tatsuya be able to discover the identity of the 'Vampire?' (Source: Mahouka Wikia, edited)
Satou originally launched the sci-fi action novel on the Shousetsuka ni Narou website in 2008. Dengeki Bunko began printing the novel with illustrations by Kana Ishida (
Shounen Maid
,
Wakaba*Girl
) in July 2011. Kadokawa will publish the 30th volume on October 10.
Mahouka Koukou no Rettousei
has a cumulative 10 million copies of its volumes in circulation.
A
manga adaptation
of the Reihousha-hen (Visitors Arc) by
Majiko!
began in
GFantasy
magazine in December 2015 and concluded on June 18. Square Enix published the seventh and final volume on September 10.
Madhouse
adapted the novel into a
26-episode television anime
in Spring 2014, covering the first seven volumes. The
Mahouka Koukou no Rettousei: Hoshi wo Yobu Shoujo
anime film, produced by 8bit, opened in Japan in June 2017.
Aniplex of America licensed the anime series in North America and released it on three Blu-ray volumes in 2015. The company also screened the
Hoshi wo Yobu Shoujo
anime film in the United States theaters in July 2017 and
released
it on Blu-ray in July 2018. Yen Press licensed the light novel in English in 2015 and
published
the 12th volume on July 9. The 13th volume will
ship
on October 15.
Special PV
Note: The video is region-locked; click here for an alternative link.
Official site:
https://mahouka.jp/
Official Twitter: @
mahouka_anime
Novel special site:
https://dengekibunko.jp/title/mahouka/
Source:
Dengeki Online
Mahouka Koukou no Rettousei: Raihousha-hen
on MAL
News tip submitted by
_MushiRock11_

RSS Feed