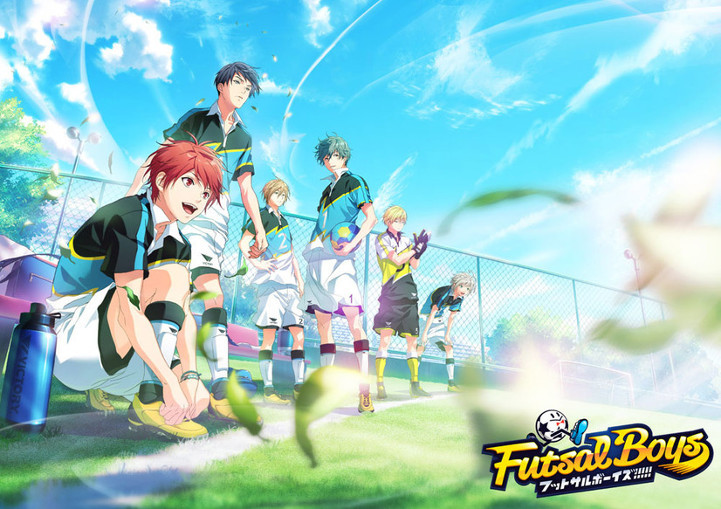 Bandai Namco Arts
,
Bandai Namco Entertainment
, and
Diomedea
are working together to produce a multimedia project based on the sport futsal. Titled
Futsal Boys!!!!!
, the project will include an anime, a mobile application, and futsal games played between the cast members that will determine the story.
Synopsis
In a world where futsal is popular sport globally, high school student Haru Yamato watches the World Cup and becomes inspired by the player Tokinari Tenouji. He joins Koyo Academy's futsal team in hope of becoming a player like Tenouji. Yamato encounters friends and foes alike in his quest to be the best.
Cast
Haru Yamato: Ryota Takara
Seiichiro Sakaki: Shuto Ishimori
Toi Tsukioka: Kohei Yoshiwara
Tsubaki Yukinaga: Ryotaro Yamaguchi
Ryu Nagumo: Kazuki Furuta (
Carole & Tuesday
)
Taiga Amakado:
Yasunao Sakai
(
Inuyashiki
)
Staff
Original Creator: Mao Marita
Original Character Design:
Mizuki Kawashita
(
Ichigo 100%
manga author),
Utako Yukihiro
(
Makai Ouji: Devils and Realist
manga author),
Tanaka Ogeretsu
(
Yarichin☆Bitch-bu
manga author), Ruka Urumiya, Sata, Shirano (
Touken Ranbu: Hanamaru
),
Lily Hoshino
(
Otome Youkai Zakuro
manga author)
Story Construction:
Shouji Yonemura
(
Death Note
script)
Character Design:
Tomomi Ishikawa
(
Persona 5 the Animation
)
Music:
Ron
(
Kuroko no Basket
)
PV
Official site:
https://futsalboys.com
Official Twitter: @
futsal_boys
Source:
Anime! Anime!
News tip submitted by
Animechannel2213

RSS Feed