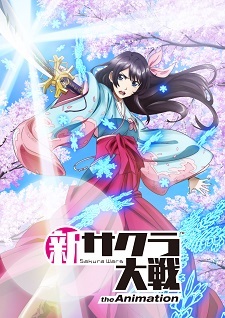 Video game developer Sega announced a television anime adaptation for its
Shin Sakura Taisen
(
Project Sakura Wars
) game at the Tokyo Game Show on Friday. The anime series will air in 2020.
Synopsis
In 1930, two years after the events of So Long, My Love, the Great Demon War results in the annihilation of the Imperial, Paris and New York Combat Revues' Flower Divisions. With Earth at peace and the revues' actions becoming public, the World Combat Revue Organization is formed with several international divisions; a biennial international Combat Revue tournament has been organized.
Ten years later in 1940, the Imperial Japanese Navy captain Seijuro Kamiyama is assigned as the captain of the new Imperial Combat Revue's Flower Division in Tokyo, which consists of: Sakura Amamiya, a swordswoman and new recruit; Hatsuho Shinonome, a shrine maiden and the most popular actress; Anastasia Palma, a newly-transferred Greek actress; Azami Mochizuki, a ninja prodigy from the Mochizuki clan; and Clarissa "Clarise" Snowflake, a Luxembourgian noblewoman. The division once again faces a new demon invasion and participates in the upcoming tournament–while trying to keep their home at the Imperial Theater open. (Source: Wikipedia, edited)
Staff
Director:
Manabu Ono
(
Sword Art Online: Alicization
,
Saki
)
Series Composition: Manabu Ono,
Tatsuhiko Urahata
(
Kyoukaisenjou no Horizon
,
Gate: Jieitai Kanochi nite, Kaku Tatakaeri
)
Music:
Kouhei Tanaka
(
Sakura Taisen
,
Hyouka
)
Studio:
SANZIGEN
Announcement
Sega launched the
Sakura Taisen
game franchise in 1996, which features role-playing and dating sim elements. The fifth game in the series,
Sakura Taisen V: Saraba, Itoshiki Hito yo
, was released in 2005. The sixth and forthcoming installment,
Shin Sakura Taisen
, serves as a soft reboot of the game series and is scheduled for a December 12 release in Japan, and Spring 2020 in North America.
Madhouse
produced a
2000 television anime
based on the first
Sakura Taisen
game. The
Sakura Taisen: Katsudou Shashin
anime film by
Production I.G
premiered in 2001. The game franchise also inspired multiple original video anime adaptations, the latest of which,
Sakura Taisen: New York
(
Sakura Wars: New York
), debuted in 2007.
Official site:
https://sakura-taisen-theanimation.com/
Source:
PR Times
Shin Sakura Taisen the Animation
on MAL

RSS Feed