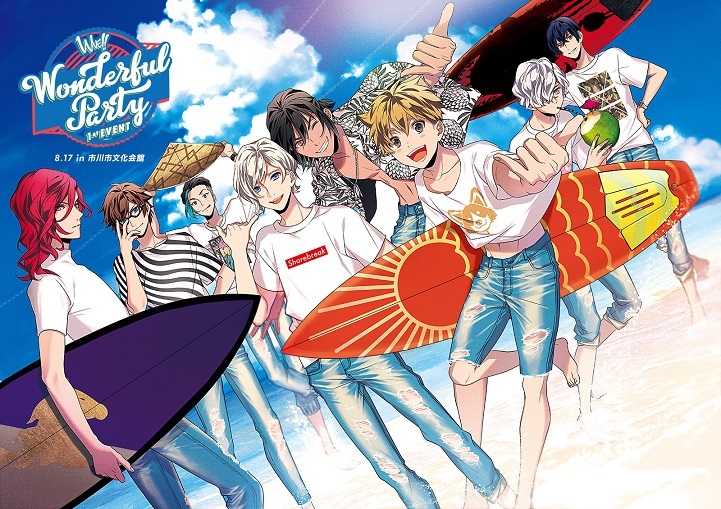 Game developer Love&Art announced an anime adaptation of its multimedia project
Wave!!
on Saturday. The announcement, which was made at the franchise's 1st Wonderful Party event in Chiba, also includes the development of a smartphone game. The project tagline reads, "Let's get wet!"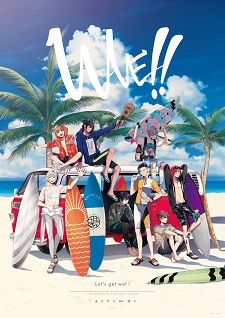 Synopsis
Masaki Hinaoka, who grew up near the coast of Ooarai in Ibaraki Prefecture, meets a prince-like transfer student Shou Akitsuki before the summer break, who introduces him to the world of surfing. Through surfing, Masaki meets irreplaceable friends and experiences farewell as he becomes an adult. It is the beginning of a never-ending story of boys fascinated by the charm of surfing.
Cast
Masaki Hinaoka:
Tomoaki Maeno
(
Fukigen na Mononokean
)
Shou Akitsuki:
Jin Ogasawara
(
Namu Amida Butsu!: Rendai Utena
)
Nalu Tanaka:
Yoshiki Nakajima
(
Hinamatsuri
)
Kousuke Iwana:
Takuya Satou
(
D.Gray-man Hallow
)
Yuuta Matsukaze:
Yuusuke Shirai
(
IDOLiSH7
)
Naoya Kido:
Shunichi Toki
(
Kakuriyo no Yadomeshi
)
Rindou Fuke:
Nobuhiko Okamoto
(
Ballroom e Youkoso
)
Souichirou William Mori:
Shoutarou Morikubo
(
Code:Realize - Sousei no Himegimi
)
Namanori Boys, which consists of the eight cast members, will perform the theme song "Ride the WAVE!!"
Love&Art launched the multimedia project in October 2018, which has since inspired music and drama CD releases, as well as radio programs.
MAGES.
is credited with production, featuring character designs by
Yomi Sarachi
(
Arcana Famiglia
). The Nippon Surfing Association (NSA), Murasaki Sports, and Surf Magazine are also cooperating in the project.
Multimedia Project PV
Official website:
https://wave-project.jp/
Official Twitter: @
wave_pj
Source:
animate Times
Wave!!
on MAL

RSS Feed