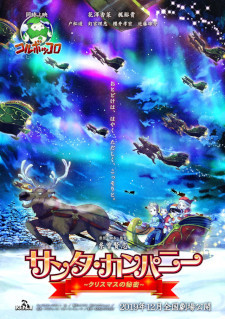 A feature-length version of the short anime film
Santa Company
was announced by
Kenji Studio
on Monday. The film, titled
Santa Company: Christmas no Himitsu
, will commemorate the 100th anniversary of diplomatic relations between Japan and Finland. It will be crowdfunded to meet the announced December 2019 theatrical release in Japan.
Crowdfunding for the film begins June 20 on Sony Bank Gate, with further crowdfunding on Kickstarter and Makuake planned for August. The original
Santa Company
exceeded
its US$50,000 goal on Kickstarter, amassing US$72,270 by the completion of the campaign in January 2014. The film premiered later that year at the Tokyo International Film Festival on October 25.
Synopsis
Noel White, a trainee of Santa Company, prepares for her test to become an official Tonttu—Santa's helper. Her assignment is to find the most important thing for a Santa Claus.
As the deadline nears with an answer yet to be found, a child's letter for santa arrives late at the company and will soon be discarded. Noel and friends set out on an adventure for the present—but will Noel find the answer to her assignment?
Kenji Itoso
, the original creator of
Santa Company
, will lead the project as the director and screenwriter.
Hidari
(
Sasami-san@Ganbaranai
) will once again handle character designs.
Asahi Production
was announced as the studio producing the film, with Starry Cube assisting in planning and production. Itoso's Kenji Studio will retain its copyright of the film.
Cast members reprising from the 2014 film are denoted with an asterisk (*) below.
Kana Hanazawa
(
Steins;Gate
) and
Yuusuke Kondou
will replace
Ayumi Fujimura
and
Hiroki Touchi
as Noel and Nicola White from the original work, respectively.
Cast
Bell Crystal:
Yuki Kaji
* (
Shingeki no Kyojin
)
Thomas Dou:
Rie Kugimiya
* (
Fullmetal Alchemist
)
Mint Rondo:
Haruka Tomatsu
* (
Darling in the FranXX
)
Pedro Rondo:
Takahiro Sakurai
* (
Code Geass: Hangyaku no Lelouch
)
Itoso's first project,
Coluboccoro
, will screen alongside
Santa Company: Christmas no Himitsu
. The original video animation was first released in 2007 and received a Blu-ray and DVD release with English subtitles via
Kickstarter
in 2016.
Trailer
Official site:
http://santa-company.net/
Official Twitter: @
santa_company
Source:
Comic Natalie
Santa Company: Christmas no Himitsu
on MAL

RSS Feed