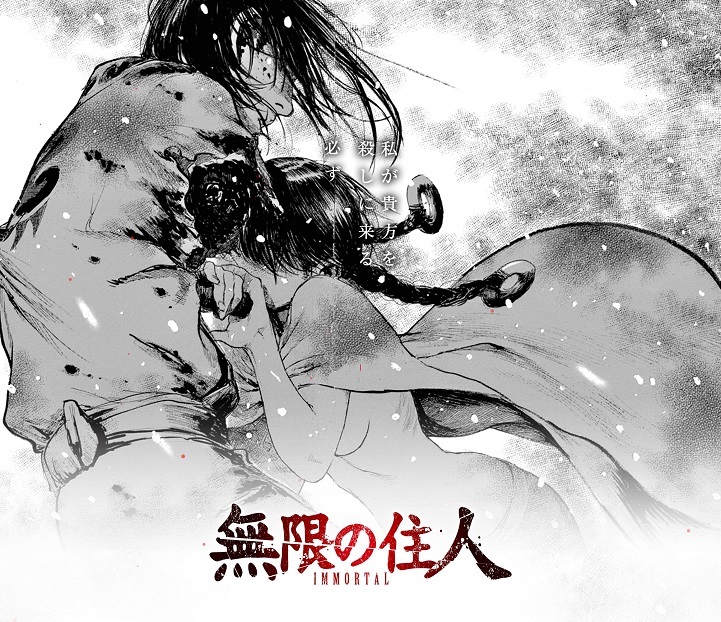 Publishing company Kodansha opened an official website for a new anime adaptation of
Hiroaki Samura
's adventure samurai manga
Mugen no Juunin
(
Blade of the Immortal
) on Thursday. Titled
Mugen no Juunin: Immortal
, the new anime will be a complete adaptation of the manga.
Synopsis
To end his eternal suffering, he must slay one thousand enemies! Manji, a ronin warrior of feudal Japan, has been cursed with immortality. To rid himself of this curse and end his life of misery, he must slay one thousand evil men! His quest begins when a young girl seeks his help in taking revenge on her parents' killers... and his quest won't end until the blood of a thousand has spilled! (Source: Dark Horse Comics)
Samura debuted as a manga author with
Mugen no Juunin
in
Monthly Afternoon
magazine in 1993 and
ended
it after a 19-year serialization in 2012 with 30 volumes. Kodansha later reprinted the manga in 15 omnibus volumes in 2016-2017 and six 5-in-1 electronic omnibuses on September 21 last year.
Junichi Oosako
published the
Mugen no Juunin: Ha-juu Ibun
(
Blade of the Immortal: Legend of the Sword Demon
) novel in 2008, featuring an original story. According to Kodansha,
Mugen no Juunin
has sold a cumulative 7.5 million copies of its compiled volumes.
Novelist
Renji Takigawa
(
Monument: Aruiwa Jibun Jishin no Kaibutsu
) and novice manga artist Ryuu Suenobu will launch an official sequel manga, titled
Mugen no Juunin: Bakumatsu no Shou
(
Blade of the Immortal: Bakumatsu Arc
), in the July 2019 issue of the Afternoon magazine on Saturday. Set in the 19th century, the story follows the protagonist Manji, who was living a secluded life in the Tosa region, but heads to the capital after a visit from an imperial loyalist. Takigawa is writing the story in collaboration with Samura, featuring illustrations by Suenobu.
Bee Train
—in cooperation with
Production I.G
—adapted the manga into a 13-episode
television anime
in Summer 2008, covering the first five volumes. Media Blasters shipped the anime in North America in three DVD volumes between September 2009 and January 2010 and later a complete DVD collection in October 2010.
Dark Horse Comics originally released the manga in English in monthly issues from 1996-2007, but discontinued it after 131 issues. The company published the series in 31 volumes between 1997 and 2015 and began republishing it in 3-in-1 omnibus format beginning January 2017. The eighth volume
went on sale
on March 26, with the ninth volume scheduled for a July 23 release. The manga has also been published in multiple foreign languages.
Directed by prolific filmmaker Takashi Miike (
Dead or Alive
,
Audition
), a live-action film adaptation premiered in Japan in April 2017, grossing over 965 million yen (about US$8.7 million). A stage play based on the manga ran from February 11-16 in 2016 at the Zenrousai Hall Space Zero venue in Tokyo.
Mugen no Juunin
received
an Excellence Award at the 1st Japan Media Arts Festival Awards in 1997 and
won
the Eisner Award for the Best U.S. Edition of Foreign Material in 2000.
Official site:
http://mugen-immortal.com/
Source:
Anime! Anime!
Mugen no Juunin: Immortal
on MAL

RSS Feed