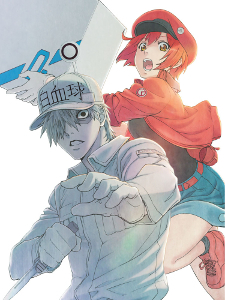 Aniplex of America revealed during their Anime Central panel on Friday the English dub cast members of
Hataraku Saibou
(
Cells at Work!
). Christian La Monte is serving as the ADR director and Blair Rowan will be in charge of the script. The company will release a Blu-ray box set containing the 13-episode anime along with the
Hataraku Saibou: Kaze Shoukougun
(
Cells at Work: Cold Syndrome
) special episode on August 27.
Cast
Sekkekkyuu AE3803 (Red Blood Cell):
Cherami Leigh
Hakkekkyuu U-1146 (White Blood Cell (Neutrophil)):
Billy Kametz
Killer T Saibou (Killer T Cell):
Robbie Daymond
Macrophage:
Laura Post
Kesshouban (Platelet):
Xanthe Huynh
Jujousaibou (Dendritic Cell):
Griffin Burns
Seigyosei T Saibou (Regulatory T Cell):
Erica Mendez
Helper T Saibou (Helper T Cell):
Ray Chase
Kousankyuu (Eosinophil):
Kayli Mills
NK Saibou (NK Cell):
Morgan Berry
B Saibou (B Cell):
Erik Kimerer
Aniplex of America's English dub will also contain a new opening theme titled "Mission! Health Comes First." written by Kayli Mills and composed by
Wendee Lee
.
PV
Hataraku Saibou
is based on
Akane Shimizu
's
manga of the same name
that anthropomorphizes cells in the human body. The anime adaptation by
David Production
aired in Summer 2018 and was simulcast by Crunchyroll. Kodansha Comics publishes the manga in English and
shipped
the fifth volume in November 2017.
A
second season
of the anime series
is in production
.
Source:
Aniplex of America press release

RSS Feed