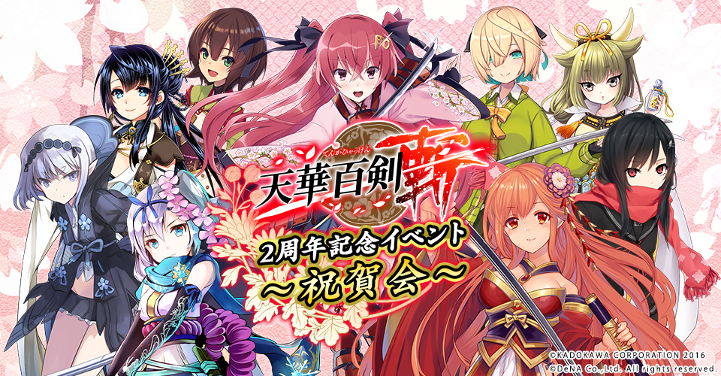 At the end of an event to commemorate the second anniversary of the
Tenka Hyakken: Zan
smartphone game, the voice cast in attendance announced that a short animation project is in the works.
Tenka Hyakken
revolves around anthropomorphized swords and is set in an alternative Meiji era. Kadokawa's Dengeki G's Comic initiated the project in 2015 and published different manga in its magazine:
Tenka Hyakken: Sai
,
Tenka Hyakken: Hatsu
, and
Tenka Hyakken: Shun
.
Tenka Hyakken: Zan
is developed by Kadokawa's ASCII Media Works and DeNA. The app was released for iOS and Android systems in April 2017.
Game Cast in Attendance
Jouizumi Masume:
Yuuko Oono
(
Tenshi no 3P!
)
Kuwana Gou:
Rie Takahashi
(
Kono Subarashii Sekai ni Shukufuku wo!
)
Goou Yoshimitsu:
Haruka Chisuga
(
Shirobako
)
Kogarasumaru:
Hitomi Ohwada
(
Alice to Zouroku
)
Nanaka:
Haruka Shiraishi
(
Golden Kamuy
)
Inaba Gou:
Aoi Koga
(
Kaguya-sama wa Kokurasetai: Tensai-tachi no Renai Zunousen
)
Kousetsu Samonji:
Amina Sato
(
AKB0048
)
Souza Samonji:
Minami Shinoda
(
Flying Witch
)
Sayo Samonji:
Sawako Hata
(
BanG Dream!
)
Source:
Dengeki G's Magazine

RSS Feed