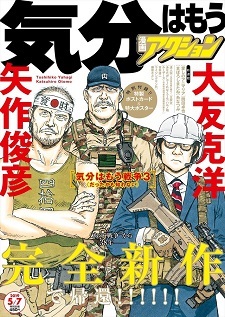 On April 16, seven years after his last manga publication,
DJ Teck no Morning Attack
,
Katsuhiro Otomo
published a one-shot in this year's ninth issue of Futabasha's
Manga Action
magazine.
Titled
Kibun wa Mou Sensou 3 (Datta kamo Shirenai)
, or
The Mood is Already War 3 (Or May Have Been)
, the one-shot is a sequel to the manga
Kibun wa Mou Sensou
. Serialized in Manga Action from 1980 to 1981, the manga was a joint project between Otomo (art) and
Toshihiko Yahagi
(story). It depicts the adventures of two Japanese men (Hachimaki and Megane) and an American man (Bowie), volunteer soldiers whose paths cross during a fictitious war between the Soviet Union and China. A previous sequel titled
Kibun wa Mou Sensou 2.1
was published in 2002 with Yahagi again handling the story, but Otomo was not involved.
Otomo became a household name in the West after the release of
Akira
, which was an adaptation of his own
manga
of the same name, serialized weekly in
Young Magazine
from 1982 to 1990. Since then he's worked as an artist, director, and screenwriter for anime, creating a number of original works while continuing his work as a manga illustrator and writer.
Source:
Comic Natalie

RSS Feed