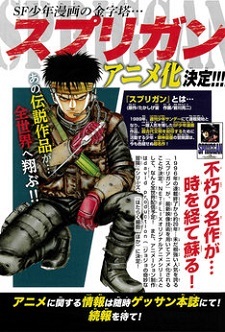 The April issue of
Gessan
magazine announced on Tuesday that manga
Spriggan
will get an anime adaptation. It will be using the "newest technology" for its animation and will be streamed via Netflix worldwide.
David Production
will be producing the anime. More information will be revealed in future issues of the magazine. The anime is also part of the
Netflix New Anime Lineup
.
Synopsis
Many years ago, an ancient civilization ruled Earth. They had a very advanced technology but were destroyed in the end due to the misuse of their creations. These people left messages for later generations in the form of indestructible message plates written in an ancient language.
Several armed organizations began to secretly search for these artifacts to use them for their own good and against their enemies. The ARCAM Corporation is trying to stop these forces from destroying themselves with these "advanced" machines. The main character of the story, Yu Ominae, is one of the elite agents that work for ARCAM under the name of Spriggans.
Spriggan
was written by
Hiroshi Takashige
and drawn by
Ryouji Minagawa
. The manga was serialized in
Shounen Sunday Super
magazine from February 1989 to January 1996 for total of 11 volumes. It also ran in the monthly anthology magazine Manga Vizion from June 1997 to February 1998. A
movie adaptation
by
Studio 4°C
premiered in September 1998.
VIZ Media published three of the manga's volumes in English as
Striker
from November 5, 1995 to May 6, 1999. The release was heavily edited in an attempt to mask anti-American sentiments.
Source:
Comic Natalie
,
Moca News
Spriggan ONA
on MAL

RSS Feed