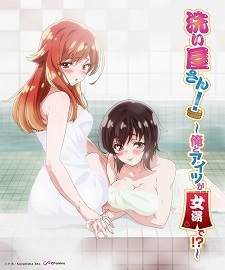 Comic Festa Anime Zone announced on Thursday that their new short anime series will be an adaptation of Toyo's
Asoko Araiya no Oshigoto: Kataomoi-chuu no Aitsu to Onnayu de
(
The Job of Washing That Part: Being in Female Bath Area With Her Who is in Love With Me One-sided
) manga. Titled
Araiya-san!: Ore to Aitsu ga Onnayu de!?
(
Washer!: She and I in Female Bath!?
), the anime will air via Tokyo MX on Mondays at 1:00 a.m. starting on April 8. The complete version will also begin streaming on Comic Festa Anime Zone the same day.
Synopsis
"Is This Really Massage..?"
Souta started to work part-time at the sentou, which is in his hometown, as a back washer,
and ends up washing for Aoi, who is his classmate but trying to cover up her identity...
With days of hate from her continuous harassment in his mind as he massages her,
He realized that Aoi has in love with him one-sided…!!
When he touch her hot skin,
She also realized that the one who washes her back is Souta---
Love comedy between clumsy guy and girl behind the red curtain begins!
Staff
Director, Storyboard:
Mitsutaka Noshitani
(
Amai Choubatsu: Watashi wa Kanshu Senyou Pet
)
Script, Series Composition: Kazuhiro Toda (
Skirt no Naka wa Kedamono Deshita.
)
Chief Animation Director, Character Design: Nanashi
Color Design: Anohito
Art Director, Art Setting: Choi Seoghwan
Art Production: Bag Seongyeong
Director of Photography: Kouhei Yamamoto (
DD Hokuto no Ken
)
Editing: Seri@G (
Skirt no Naka wa Kedamono Deshita.
)
Sound Director:
Takahiro Enomoto
(
Bikini Warriors
)
Sound Production:
Studio Mausu
Studio:
Magic Bus
Production:
Picante Circus
,
Suiseisha
Cast
Aoi Yuzuki:
Ringo Aoba
(
Hoshizora e Kakaru Hashi
)
Souta Tsukishima: Kaina Honma
Mei Sasakura: Ayaka Igasaki
Hidemoto Takasugi:
Tetsuto Furukawa
(
Omiai Aite wa Oshiego, Tsuyoki na, Mondaiji.
)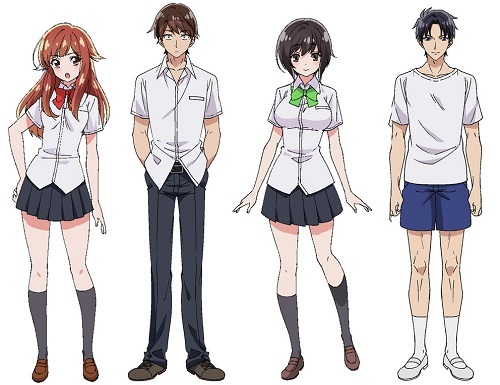 The manga is currently serialized via Comic Festa and 11 chapters are currently out.
Official site:
https://araiya.cf-anime.com/
Official Twitter: @
CFAnime_MENS
Source:
Comic Natalie
Araiya-san!: Ore to Aitsu ga Onnayu de!?
on MAL

RSS Feed