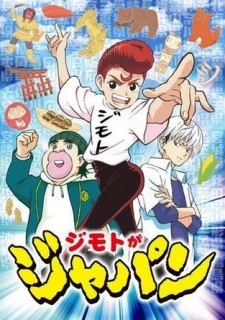 The official website for the
previously announced
Jimoto ga Japan
TV anime has launched and announced staff members. The anime is scheduled to air via CharaSuta, a new timeslot within TV Tokyo's morning show OhaSuta this spring. More information regarding which day of the week it will be aired will be announced later, as different anime will be aired from Monday to Friday.
Anime adaptation
of
B Rappers Street
from
CoroCoro Comic
is also a part of the
lineup
so far.
Staff
Director:
Isamu Ueno
(
Zannen Onna Kanbu Black General-san
)
Script: Masato Naruse, Kouji Hashimoto
Character Design: Sayaka Nohara, Fumiyuki Uehara (
Yoake Tsugeru Lu no Uta
flash animation)
Studio:
Oddjob
Official site:
https://www.shopro.co.jp/tv/jimoto-anime/
Source:
Official Twitter
Update: February 18
The official website has announced that Japan Hinomoto will be voiced by
Minami Takayama
(
Detective Conan
series)
Source:
Comic Natalie
Update: March 15
The official website has announced additional cast members. It will broadcast via Monday's broadcast of CharaSuta at 7:05 a.m. starting April 8.
Cast
Tokio Abiko:
Koutarou Nishiyama
(
Gakuen Babysitters
)
Hide:
Wataru Hatano
(
Seizei Ganbare! Mahou Shoujo Kurumi
series)
Masurao Kikuchi:
Tessyo Genda
(
Warau Salesman New
)
Komachi Yuze:
Reina Ueda
(
Grimms Notes The Animation
)
Source:
Comic Natalie

RSS Feed