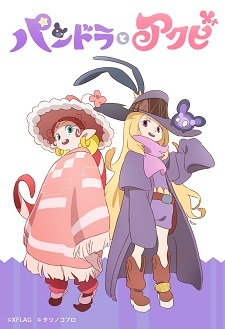 Social networking service provider Mixi's game and video division
XFLAG
Studio and animation studio
Tatsunoko Production
announced on Tuesday that the companies will co-produce an anime project titled
Pandora to Akubi
(
Pandora and Yawn
). The anime will premiere in Spring 2019.
The joint production will feature characters from the companies' intellectual properties. Pandora, the character on the right in the visual shown, is from XFLAG's
Monster Strike
smartphone game. Akubi, the character on the left, originates from Tatsunoko Production's 1969 anime series
Hakushon Daimaou
(
The Genie Family
). The anime is being billed as a "battle entertainment work for girls."
J-pop band
Shiggy Jr.
will perform both the opening theme "D.A.Y.S" and the ending theme "B.U.R.N."
The 52-episode
Hakushon Daimaou
anime series aired in 1969-1970, which will celebrate its 50th anniversary this October. The anime inspired two spin-offs:
Yobarete Tobidete Akubi-chan
and
Akubi Girl
in 2001 and 2006, respectively. A two-hour live-action special aired on Fuji TV in 2013.
XFLAG developed and published the
Monster Strike
role-playing game for iOS and Android platforms in 2013. An English version was released in North America the following year, but was discontinued in August 2017. The game has grossed over US$7.2 billion worldwide as of October 2018, becoming the highest earning smartphone application of all time.
The first 52-episode
net anime adaptation
debuted in October 2013. The second season premiered in
two installments
in April and October 2017. A
third season
began streaming last July.
The franchise also inspired two anime films:
Monster Strike The Movie: Hajimari no Basho e
in December 2016 and
Monster Strike the Movie: Sora no Kanata
in October 2018, each grossing over approximately 7.4 million yen (US$6.8 million) and 3.6 million yen (US$3.2 million), respectively.
Official site:
https://dora-bi.com/
Official Twitter: @
anime_dorabi
Source:
PR Times
Pandora to Akubi
on MAL

RSS Feed