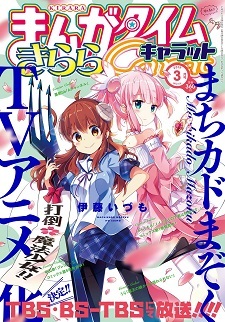 The March 2019 issue of
Manga Time Kirara Carat
announced a TV anime adaptation of
Izumi Ito
's comedy slice of life manga
Machikado Mazoku
(
Street Corner Demon
) on Monday. The anime series will air on TBS and BS-TBS networks.
Synopsis
Awakening her dormant abilities as a devil one day, Yuuko Yoshida aka Shadow Mistress Yuuko, is entrusted with the mission to defeat the Light clan's shrine maiden, a magical girl, by her ancestor Lilith. Yuuko meets magical girl Momo Chiyoda through her classmate Anri Sada, and challenges her to a duel, but loses quickly due to her lack of strength.
Since then, Yuuko has struggled with her role as a devil and her duel with Momo, and borrowed help from her regularly. However, by a strange coincidence, Yuuko also weakens Momo by taking away her power to cooperate in protecting the peace of Tama city.
The 4-koma manga ran in Manga Time Kirara Carat as a guest series in the August and September 2014 issues before beginning regular serialization in the November issue of that year. Houbunsha published the fourth compiled volume in October 2018.
Official site:
http://www.tbs.co.jp/anime/machikado/
Source:
Manga Time Kirara Carat
Machikado Mazoku
on MAL

RSS Feed