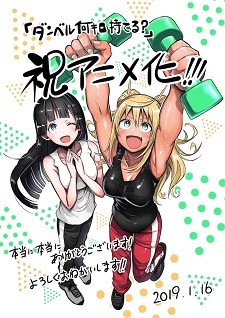 An official website has launched and announced that manga
Dumbbell Nan Kilo Moteru?
(
How Many Kilograms are the Dumbbells You Lift?
) will get a TV anime for this summer.
Synopsis
Hibiki Sakura is your average high school girl with a voracious appetite. Noticing her clothes tightening in lieu of her slowly expanding waistline, she decides to look into joining the nearby gym. There, she runs into a girl from her grade named Akemi Souryuuin.
Akemi, who has a muscle fetish, tries to get Hibiki to enroll in the gym despite its high ratio of macho men. Thankfully, a beautiful trainer, Machio, appears and unknowingly convinces her to enroll and start her quest to a great body. (Source: MU, edited)
Staff
Director:
Mitsue Yamazaki
(
Tada-kun wa Koi wo Shinai
)
Series Composition, Script:
Fumihiko Shimo
(
Anima Yell!
)
Character Design:
Ai Kikuchi
(
Tada-kun wa Koi wo Shinai
assistant character designer)
Studio:
Doga Kobo
Production: Silverman Gym
Cast
Hibiki Sakura:
Ai Fairouz
Akemi Souryuuin:
Sora Amamiya
(
Hangyakusei Million Arthur
)
Dumbbell Nan Kilo Moteru?
is a manga written by
Yabako Sandrovich
and drawn by
MAAM
that began its serialization in August 2016 via the manga app Manga One.
Ura Sunday
has released physical volumes since December 2016, and the sixth volume will be released on January 18.
Official site:
http://dumbbell-anime.jp/
Official Twitter: @
dumbbell_anime
Source:
Moca News
Dumbbell Nan Kilo Moteru?
on MAL

RSS Feed