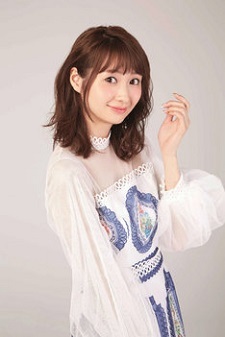 Seiyuu
Haruka Tomatsu
has announced via her blog that she has married a man not from the industry on Friday. She said she will try to develop a family with a smile and continue working as a seiyuu.
Tomatsu had been interested in being a seiyuu since her third year of junior high school. She was interested in Studio Ghibli movies and wished one day to be able to voice a character in the franchise. A friend of hers, knowing her great feelings of wanting to be a seiyuu, recommended she attend an audition. She passed the 1st Annual Music Ray'n Super Seiyuu Audition which was held from 2005 to 2006. She and other seiyuu from that audition later became
Sphere
, which will celebrate its 10th anniversary this year. She also placed 15th in Toei Entertainment's Cinderella Audition the following year.
She debuted as a seiyuu in 2007 as a sweet student from
Gakuen Utopia Manabi Straight!
. She also voiced Naruko Anju from the
Ano Hi Mita Hana no Namae wo Bokutachi wa Mada Shiranai.
franchise, Iona Hikawa from
Happiness Charge Precure!
, Nagi from
Kannagi
, Saki Rukino from the
Kakumeiki Valvrave
series, Asuna Yuuki from the
Sword Art Online
series, Keita Amano from the
Youkai Watch
series, Natsuki Enomoto from HoneyWorks'
Kokuhaku Jikkou Iinkai
franchise, and more. Her recent role was Zero Two from
Darling in the FranXX
and Haru Okumura from the
Persona 5 the Animation
series. As an Aichi Prefecture native, it was also
previously announced
that she will voice Monaka Yatogami from
Yatogame-chan Kansatsu Nikki
. Tomatsu's role of Sumireko Sanshokuin from
Ore wo Suki nano wa Omae dake ka yo
is also upcoming.
Tomatsu is also active as a singer in both Sphere and a solo artist. As a member of Sphere, she has released 20 singles, five albums, and one best album together with
Minako Kotobuki
,
Ayahi Takagaki
, and
Aki Toyosaki
. As solo signer, she has released 19 singles, four albums, and one best album.
She also appeared in the live-action drama
Koe Girl!
with actress
Haruka Fukuhara
for the collaboration of the 15th anniversary of the
Precure
franchise and performed the theme song
"It's Show Time!!"
together. She won best supporting actress for the
7th Annual Seiyuu Awards
in 2013 and the Synergy award for
Youkai Watch
for the
9th Annual Seiyuu Awards
in 2015. She was also one of the best female seiyuu in the
2017
and
2018
Newtype Anime Awards.
Source:
Comic Natalie

RSS Feed