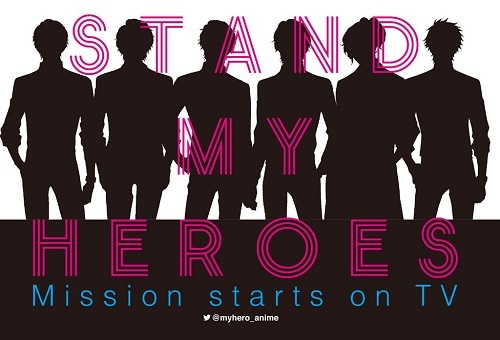 The second anniversary event for the puzzle game
Stand My Heroes
held on Saturday has announced a TV anime adaptation for the series.
Synpsis
The heroine is a new officer works under the Narcotics Control Department of the Ministry of Health, a.k.a Matori. Narcotic medicines don't work on her, and the story begins with her just entering the department and starting work with other officers.
Cast
Itsuki Aoyama:
Tomokazu Sugita
(
Gintama
series)
Shun Imaooji:
Daisuke Namikawa
(
Tokyo Ghoul
series)
Daisuke Seki:
Tomoaki Maeno
(
Juushinki Pandora
)
Satoru Watabe:
Kousuke Toriumi
(
Dies Irae
series)
Haru Natsume:
Yuki Kaji
(
Senjuushi
)
Koutarou Yui:
Natsuki Hanae
(
Starmyu
series)
Stand My Heroes
is a cellphone puzzle game by coly inc. that is targeted at female players. The player can pick various people such as a high school detective, a top designer, a butler, etc. to solve mysteries, in the name of "missions." Two volumes of a comic anthology adaptation by
Ken Homerun
,
Eri Kagami
,
Hidesato Kimura
, and more have been released, and the latest volume went on sale on February 22.
Official Twitter: @
myhero_anime
Game official site:
https://stand-myheroes.com/
Source:
Moca News
Stand My Heroes
on MAL

RSS Feed