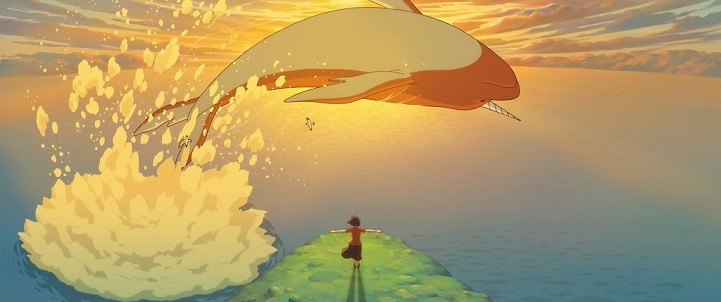 When organizers of the Annecy International Animated Film Festival selected China as a guest country for the 2017 edition, the world's biggest animation festival used their brand to champion a new crop of Chinese studios producing original animation features.
Among the festival's international premieres was
Da Yu Hai Tang
(pictured above), an epic fantasy film marketed overseas as
Big Fish & Begonia
which earned 565 million yuan (approximately US$89 million) in the Chinese box office just a year earlier.
Beijing Enlight Pictures
, one of China's largest private film companies and the primary financial backer of
Da Yu Hai Tang
, is quickly becoming an animation powerhouse.
Animation was not initially an obvious investment for Beijing Enlight Pictures. The company was once one of the financial backers of
Xiyouji zhi Dasheng Guilai
(
Monkey King: Hero Is Back
) but eventually stopped funding the project. After its release in 2015, however, the film went on to earn 956 million yuan (US$150 million) and became China's highest-grossing domestic animation film. The film's box office success is now credited with sparking the burgeoning interest in animation features in China. This prompted Beijing Enlight Pictures to return to talks with director
Tian Xiaopeng
and signed him on to direct two new features.
Within a few months of
Dasheng Guilai
's release, Beijing Enlight Pictures had corrected its early misstep. In October 2015, the company announced that it was investing in 13 animation studios and a total of 22 animation projects for television, theatrical, and online distribution.
Da Yu Hai Tang
was the first of these projects, and Beijing Enlight Pictures has since been passing the baton to a new flagship release annually.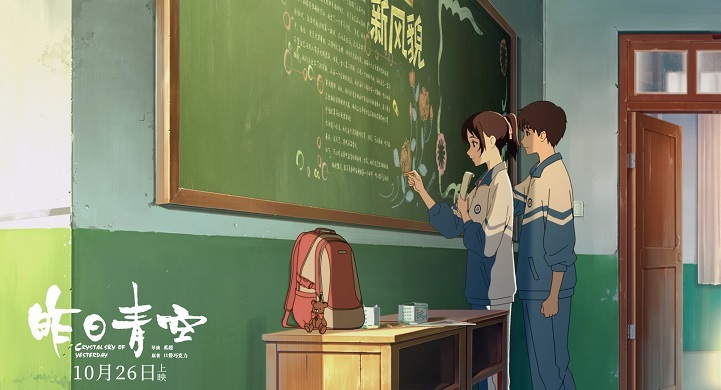 This year, that baton falls to
Zuori Qing Kong
, billed as the country's first coming-of-age domestic animation feature film. It is adapted from a two-part manhua series, which has also been published in France under the international title
Crystal Sky of Yesterday
. The original work is set in a Chinese city south of the Yangtze River in 1998 and follows a group of students in their third and final year of middle school as they discover love, as well as dreams and goals for the future. The series was praised for its accurate depiction of China's blue-and-white public school uniforms, a contrast to Japan's naval-style school uniforms.
Zuori Qing Kong
began as a serial manhua in 2011 for the comics magazine Huixin, which is popular among Chinese youths and reached a circulation of 300,000 copies. It was subsequently collected into two volumes in 2012, allowing the series to reach a wider audience. Positive reception of the series led artist Gong Yijian, better known by his pen name
Pocket Chocolate
, to consider an animated adaptation, but the idealist in him felt a full adaptation would be a monumental task. He eventually settled on a
pilot film
instead of a feature animation. Produced over six months with Shanghai-based animation studio
Seven Stone Entertainment
, the four-minute pilot was released on the social media platform Weibo and video streaming website Youku in January 2014.
Pocket Chocolate's sample pilot adaptation has since been viewed more than 45,000 times, and has gathered almost 2,000 comments. Public attention over the pilot adaptation drew renewed interest in the original manhua, and so the collected volumes were reprinted later that year. Meanwhile, Pocket Chocolate began revisiting the idea of producing an animation feature film with the feedback he gathered. That is when he was introduced to Hangzhou-based Guton Animation Studio.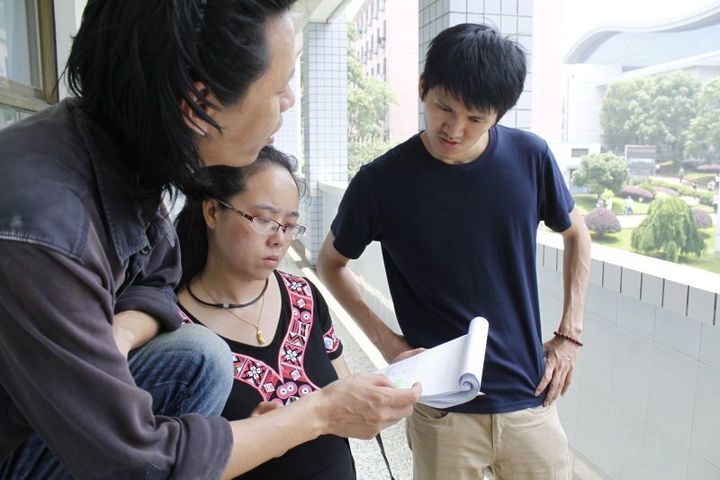 Founded in 2002 as L-Key Studio and renamed in 2011, Guton is led by
Liu Min
(pictured above, center), a physics graduate who encountered animation by accident. As a girl growing up in Inner Mongolia in remote parts of northern China, Liu did not like watching cartoons, but she did like writing. While in university in Shanghai, she wrote an award-winning screenplay for an independent animation by a young director named Lei Tao. Liu took a leave of absence for one year to work on Lei's short film before returning to complete her physics degree, but Lei moved his studio to a rented house near Liu's university so she could continue working in animation. Following Liu's graduation, the two moved to Hangzhou with their friends to work full-time on L-Key.
L-Key soon developed a reputation for sentimental youth drama productions such as the web anthology series
Ming Ji
. It was praised by Chinese audiences, but was also overshadowed by the 2007 release of
Makoto Shinkai
's anthology film
Byousoku 5 Centimeter
(
5 Centimeters Per Second
). Still,
Ming Ji
remains the production which has received the most awards domestically and overseas, so Liu and Lei remained confident in their ability to maintain a unique Chinese approach to youth drama and renamed L-Key to Guton Animation Studio. Liu's commitment to Guton's style led the studio to receive Series A funding from Shanghai-based Early Bird investment fund in 2014 in order to increase original animation productions.
When Liu and Pocket Chocolate met as the latter was looking to produce a feature film, the two realized that their visions for Chinese-style youth drama naturally aligned. Pocket Chocolate worked with the team at Guton for over a year to revise and "expand" the story of
Zuori Qing Kong
while keeping the spirit of the original manhua. In the process, the two were also introduced to producers at Beijing Enlight Pictures looking to discover China's best animation directors. With the financial backing of a venture capital fund and a major film production company, Guton kicked off production of
Zuori Qing Kong
in July 2015.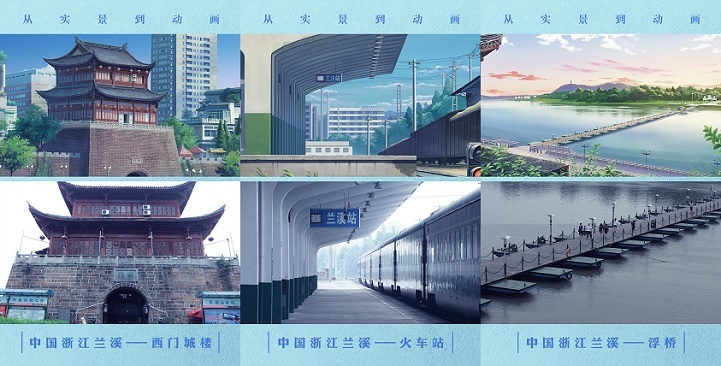 Pocket Chocolate based the setting of the original manhua on his hometown of Lanxi in Zhejiang Province. The city of over 600,000 residents is situated inland on the Qiantang River, which marks the southern end of China's ancient Grand Canal. The location made Lanxi a hub for water and land trade routes, establishing the city as a transportation hub since the Song dynasty a thousand years ago. Today, Lanxi retains a mix of traditional and modern characteristics as classical Chinese architecture is scattered among modern buildings and skyscrapers.
To depict the city as it existed in the late 1990s, the production team at Guton conducted extensive research of the surrounding areas. "We ran all over Zhejiang, Jiangsu, and Shanghai, saw various ancient towns, photographed countless materials, refined some characteristics, and then expressed them in our own style." Liu said in
an interview
with the Hangzhou Daily newspaper. The team used hundreds of textbooks and magazines from around the year 2000 and replicated the appearance of blackboards and school desks of the time to revive the memories of Chinese audiences who grew up in the 1990s and 2000s.
When the film's first preview footage was released in August 2017, observers noted similarities in tone with Shinkai's
Kimi no Na wa.
(
Your Name.
), which received overwhelming positive reaction among Chinese audiences. Liu has not shied away from the comparison and instead maintains that the team sees it as an honor to be compared with world-class productions. Guton animators did spend time in Japan learning from production teams there, but Liu admitted there were noticeable cultural differences in the way the two teams depict day-to-day life in animation. The Chinese animators thus made sure that their content matches the experiences of Chinese audiences rather than Japanese ones.
Although Guton leads the production of
Zuori Qing Kong
, the film has also become a national effort for China's animation industry. According to a statement released by Liu on the social media platform Weibo, at least 70 percent of the country's 2D animation teams have lent their assistance to the production. It is an unprecedented scale of collaboration for an animation industry that is only emerging into the spotlight within the past five years. In promoting the film, Beijing Enlight Pictures commissioned art posters in collaboration with its preceding flagship animation films—
Dasheng Guilai
,
Da Yu Hai Tang
, and
Dahufa
.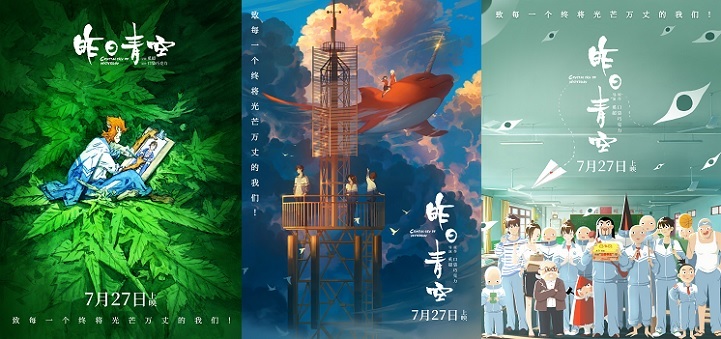 For the 57 production staff members—the youngest is 22 years old, and the oldest is 57—this film carries a personal meaning. Even as their own youths are slowly drifting away, they vow to remain as earnest in their love for animation as on the day they entered the industry. China's largest movie ticketing platform Maoyan Weiying reports that advance ticket sales have reached almost 2.1 million yuan (US$300,000) to date. More than 200,000 of the platform's users have expressed interest in watching the film, making it one of the most anticipated films of 2018.
Zuori Qing Kong
was originally scheduled to open in theaters in the summer, after China's national university entrance examinations, but the release was delayed to make improvements to the film. When it finally opens on October 26, after the start of the new school year, Liu hopes the work Guton has done over the past three years will help Chinese audiences reminisce on their own days of youth.
Original reporting by arsonal for MyAnimeList.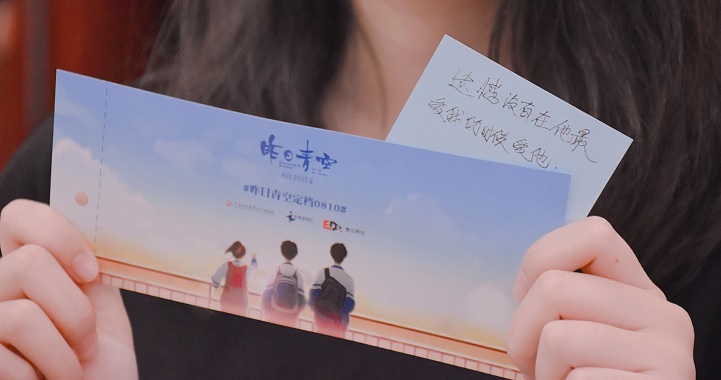 RSS Feed