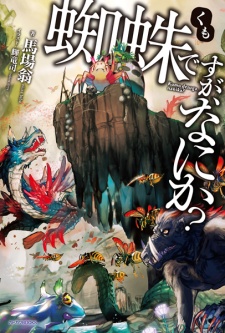 Kadokawa announced at their Anime Expo booth on Friday that
Okina Baba
's adventure fantasy light novel
Kumo desu ga, Nani ka?
(
So I'm a Spider, So What?
) will receive a TV anime adaptation.
Synopsis
The world where the Hero and the Demon King continue to oppose each other. The grand magic from the Hero and the Demon King cross over worlds and exploded in the classroom of a certain high school.
The students who died in the explosion will be reincarnated in a different world. The protagonist, who has the lowest reputation in the class, was reincarnated into a spider. Nevertheless, she adapted quickly to the present condition with strong willpower.
This is a story of she who has become a spider trying whatever she can to live. (Source: MU)
Baba originally launched the novel on the Shousetsuka ni Narou website in May 2015. Kadokawa began publishing the novel with illustrations by
Tsukasa Kiryuu
in December 2015. A
manga adaptation
drawn by
Asahiro Kakashi
has also been simultaneously serialized in
Young Ace UP
web magazine since December 2015. The ninth light novel volume and the fifth manga volume are both scheduled to ship on July 10.
The novel placed third in the
2017
edition and second in the
2018
edition of the Kono Light Novel ga Sugoi rankings.
North American publisher Yen Press licensed both the manga and light novel, and will
ship
the third volume of each on July 24 and 31, respectively.
Source: @
JENTranslations
on Twitter
Kumo desu ga, Nani ka?
on MAL

RSS Feed