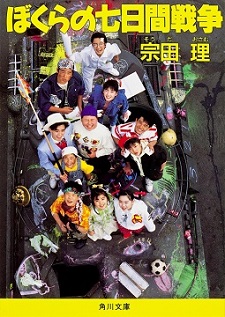 Novelist Osamu Souda announced an anime project for his
Bokura no Nanokakan Sensou
(
Our Seven-Day War
) children's novel at the Shougakusei ga Erabu! Kodomo no Hon Senshuken (Children's Book Election Chosen by Elementary School Students) Best 10 poll event on Saturday. The anime is planned for 2019, with more details to be announced later.
Synopsis
On a hot day right before the summer vacation, all first-year male students of the second class from a junior high school disappear. Was it an accident? A group abduction? In fact, they were hiding in an abandoned factory near the river, and used it as a liberation area to rebel against the adults. The adults are in great confusion by the huge and unexpected operations cooperated by the female students; entangled with real abduction cases, a corrupted mayor election, and even involving parents and television reporters who are thrilled by the liberation broadcast and barricade. The comedy mystery progresses in a light tempo that doesn't give the audience a chance to breathe until the brilliant end that is full of satire.
Bokura no Nanokakan Sensou
is the first novel in Souda's popular
Bokurano
series that was published by Kadokawa Shoten in April 1985. Two live-action film adaptations premiered in 1988 and 1991. The novel received a reprint via Kadokawa Tsubasa Bunko with illustrations by
Shin Hashimoto
(
K-On! Anthology Comic
) beginning March 2009. Yoko Ootsuka launched a manga adaptation in Poplar's
Monthly Comic BunBun
magazine in 2008, which was collected in a single volume in July 2009.
The
Bokurano
series, including reprints and spin-offs, has sold over 17 million copies. The first novel ranked eighth in Shougakusei ga Erabu! Kodomo no Hon Senshuken Best 10 poll on Saturday, voted by 120,000 elementary school students.
Source:
Daily Sports
Bokura no Nanokakan Sensou
on MAL

RSS Feed