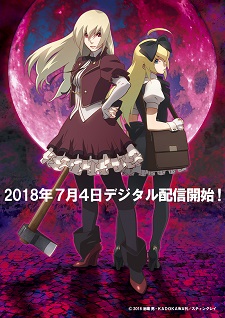 Animation production and publishing company
Kadokawa
opened an official website for the
previously announced
anime adaptation of
Ryou Ikehata
and
Hagane Tsurugi
's
Aru Zombie Shoujo no Sainan
(
Calamity of a Zombie Girl
) light novel series on Friday. The website also revealed that the anime will be distributed digitally beginning July 4.
Synopsis
For their first summer vacation night quest, a group of five male and female students of Kikuka University's Occult Research Club snuck out at midnight to search for the hidden money of Tokugawa. The so-called treasure was purportedly located at the school's database room. No hidden money was found, but rather, two well preserved female mummies. Sayaka Kamoshida, who forced her friends to get into the database room, secretly stole a mysterious jewel called "life stone" that was inside the mummy. With no treasure found, the students left the room. However, the mummies returned to life after the jewel was stolen.
Euphrosyne Studion, previously the daughter of a Baron who became immortal by magic and later a mummy due to an unexpected incident, and Alma V, a homunculus-turned-mummy that was made as her maid, attack the Occult Research Club members in order to get the life stone back. Will the members live? Why are they desperate to get the life stone back? A bloody disaster hits the student dorm at midnight.
Staff
Director: Hideaki Iwami (
Top wo Nerae! Gunbuster
in-between animation)
Script:
Kenichi Kanemaki
(
Jigoku Shoujo
)
Character Setting, Chief Animation Director:
Junichi Takaoka
(
Shigurui
assistant chief animation director)
Animation Director:
Takeshi Kusaka
(
Gantz
key animation), Yuuji Hosogoe (
Youjo Senki
chief animation director), Norimoto Tokura (
Mousou Dairinin
key animation)
Art Setting: Masayo Kobayashi (
Strawberry Panic
background art)
Color Setting: Miyuki Mizumaki (
Shiki
)
Art Supervision: Ayumi Sugimoto (
Special A
art director)
Art Director:
Shin Watanabe
(
Phantom: Requiem for the Phantom
background art)
Digital Graphics: Gen Uekura (
Nyanpire The Animation
color design)
Photography, Editing:
Stingray
Music:
Kow Otani
(
Another
)
Sound Director, Sound Mixing: Akira Noguchi (
Kuroshitsuji: Book of Circus
)
Sound Designer:
Yasuyuki Konno
(
Re-Kan!
)
Animation Producer: Tsutomu Kojima (
Druaga no Tou: The Aegis of Uruk
)
Producer: Katsuya Iwamoto
Studio:
Gonzo
,
Stingray
Cast
Euphrosyne Studion:
Saori Hayami
(
Kakegurui
)
Alma V:
Yui Ogura
(
Kamisama no Memochou
)
Mako Takanashi:
Ryoko Shiraishi
(
Natsu no Arashi!
)
Shuuichirou Takanashi:
Tomokazu Sugita
(
Suisei no Gargantia
)
Sayaka Kamoshida:
Miyuki Sawashiro
(
Highschool of the Dead
)
Yui Minagawa:
M.A.O
(Mao Ichimichi) (
Gakkougurashi!
)
Noriko Sudo:
Yurika Kubo
(
Shoujo Shuumatsu Ryokou
)
Masahiro Abe:
Tatsuhisa Suzuki
(
Kyoukai no Kanata
)
Hiroshi Azuma:
Takahiro Miwa
(
Kekkai Sensen
)
Miyake:
Mugihito
(
Re:Zero kara Hajimeru Isekai Seikatsu
)
Trailer
Note: The trailer is also available with English subtitles.
A talk show commemorating the anime's digital release will be held at the Shochiku booth in Nico Nico Super Conference on April 28 featuring Ryoko Shiraishi and Yurika Kubo as guests.
Aru Zombie Shoujo no Sainan
was initially published in tankobon format in September 2007. Kadokawa later published the novel with illustrations by Hagane in two separate volumes in June 2012. The
Aru Zombie Shoujo no Nyuugaku
sequel was published in two volumes in November of the same year.
Official site:
http://www.zombie-girl.net/
Source:
Ota☆Suke
Aru Zombie Shoujo no Sainan
on MAL

RSS Feed